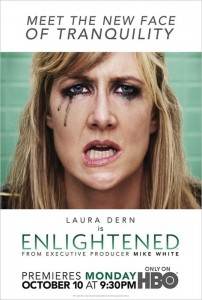 In the debut episode of HBO's Enlightened, we meet Amy Jellicoe, a corporate executive who seems to have no problem running the show. She's tough, she's experienced, and she knows exactly what she's doing when it comes to business. However, Jellicoe soon experiences a breakdown at the office and instead of hopping right back on the gilded horse she was riding, opts to get in touch with her spiritual side. As a result, it looks like Amy's life is about to start changing, likely for the better.
HBO released descriptions of the first four episodes (Pilot, Now or Never, Someone Else's Life, and The Weekend) of Enlightened's 10 episode first season and even that early on, Amy seems determined to live her life in a better way. After the pilot establishes Amy's new life mantra ("I will change and I will be an agent of change."), she tries to implement that for the foreseeable future, most often with her ex-husband Levi and her mom Helen, who doesn't seem to understand the new changes in her daughter's life. (Levi seems determined to hang on to his self-destructive ways, even in the face of his ex-wife's epiphany, good intentions, and upcoming rafting trip.) She also tries to improve things at her company, despite a serious demotion back into data entry and finding out about financial improprieties within the ranks, but soon entertains the thought of looking for a new source of employment.
Judging by the recently released trailer (below), Enlightened won't be backing down from its decidedly optimistic tone anytime soon, which I see as a real positive of the show. Very often, TV characters can be trapped in a lather-rinse-repeat cycle of destruction and poor choices, so having a lead that wants to do better and wants to uplift the other people in her life will provide some balance to the TV landscape. (I love edgier shows as much as the next guy, for the record.) She's obviously a flawed individual, so I think Amy can avoid being a Mary Sue, and watching someone dig themselves out of such emotional depths could make for inspiring TV.
But can Amy save people who don't think they need saving?
Enlightened premieres Monday, October 10th at 9:00 on HBO, and will feature Laura Dern (Blue Velvet), Luke Wilson (Old School), and Diane Ladd (Chinatown).
How do you think the first four episodes of the show sound? Do you like that there seems to be a distinctly positive/uplifting tone to Enlightened? What kind of good do you think Amy will do this season?
< [youtube http://www.youtube.com/watch?v=gF3w88BAmkM&version=3&hl=en_US]