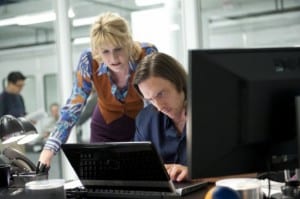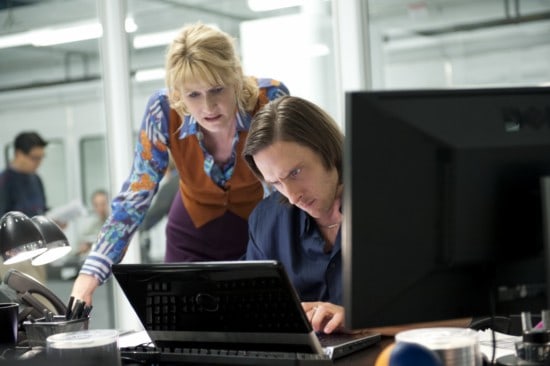 Soon, Amy, Dougie, and Tyler's investigation into the corruption of Abaddonn will be over. They'll have all the e-mails and ammunition needed to take on the corporate giant and in doing so, they face potentially tremendous blowback, not only personally but professionally. Amy has spent so much of her time post-rehab waiting for this moment, the one chance she might ever get to become the agent of change she wanted to be in the Enlightened pilot, that she wouldn't possibly back down now, regardless of what could happen to her. However, how will she react when her hand gets forced by Szidon? Will Amy hang on to her convictions and overwhelming desire for social justice while staring down the man responsible for all of Abaddonn's failings?
Listed below are the date, time, title, description, and repeat information for the second season finale of Enlightened.
Sunday, March 3rd (9:30-10:00 p.m. ET/PT) – "Agent of Change" (season finale)
On the verge of bringing down Abaddonn, Amy (Laura Dern) warns Tyler (Mike White) to prepare himself for the inevitable fallout. She also tells her mom (Diane Ladd) about the expose, but Helen's reaction is not what she expected. When Szidon (James Rebhorn) gets wind of her intentions, Amy wrongly points a finger at Krista (Sarah Burns), who has just given birth. As the crisis reaches its denouement, Amy is intercepted by HR and taken to meet with Szidon and Abaddonn lawyers for a final reckoning.
Other HBO playdates: March 3 (10:30 p.m., 11:30 p.m.), 6 (midnight) and 7 (10:30 p.m.)
HBO2 playdates: March 4 (9:30 p.m.), 5 (11:00 p.m.) and 9 (9:00 p.m.)
Enlightened airs Sundays at 9:30 on HBO. You can check out spoilers for the next two episodes here.
Will Amy, Dougie, and Tyler actually bring down Abaddonn Industries? How will Tyler's romance with Eileen change his views on the plan, if at all? Can Szidon and the Abaddonn HR reps keep Amy from blowing up their company and airing their dirty laundry in public?