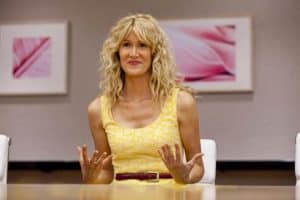 It looks like Amy Jellicoe has gained an ally in her bid to bring down Abaddon.
According to Deadline, Molly Shannon has joined HBO's Enlightened for its second season. She's set to play an executive assistant at the corporation that inadvertently fuels Amy's investigation into Abaddon's shady practices. Shannon's character is said to also be a love interest for Tyler (creator Mike White).
At the end of Enlightened's first season, Amy (Golden Globe winner Laura Dern) finally grew tired of the endless corporate bureaucracy and discouraging apathy she had encountered since her return to the working world. Her newfound sunny disposition, honed during her retreat, gave way a little bit to Amy's desire for change and feeling of connection to the world at large, with Abaddon's disregard for anything other than its profit margin pushing her to burn it down. Her personal life may be on the up now that her words to Levi about change and rehab have finally sunken in, but Amy's professional turbulence looks to take center stage in season 2.
Best known for her tenure on Saturday Night Live in the late 1990s and early 2000s, Shannon has since been busy guest starring all over television, having had roles in the likes of Glee, The Middle, Up All Night, Web Therapy, and The New Adventures of Old Christine. She's had three regular series roles since her time on SNL, including a remake of Australia's Kath & Kim, Cracking Up, and animated comedy Neighbors From Hell. She can next be seen in the animated film Hotel Transylvania, set to premiere September 21st.
Enlightened returns for its second season this fall on HBO.
Do you think Amy can bring down Abaddon? Are you happy that Tyler will have a little positivity in his life once Shannon's character debuts? Are you rooting for Amy and Levi to get back together?