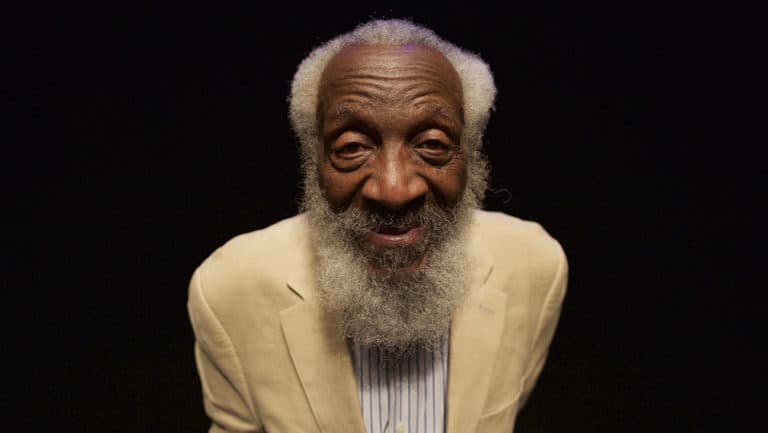 The world has lost a pioneer in comedy, as well as an effective civil rights activist. Dick Gregory, passed away on Saturday evening, at the age of 84, in Washington, D.C. He continued performing his standup acts and engaging in public speaking events until just recently, when he was taken into the hospital on the ninth of August. In honor of the man who has contributed to our entertainment and our education on civil rights issues, we are pleased to share the defining moments of his career.
Induction into the Army
Prior to being drafted in the Army in 1953, Gregory, a St. Louis native, earned a scholarship to Southern Illinois University. His mother had raised him along with 5 other siblings along after their father abandoned the family. He excelled in track in high school and this resulted in his scholarship. He entered SIU in 1951, learning shortly after the death of his mother just two years later. It was during his time in the military that a fire began to light under his budding career. He served as performer in variety and talent shows while in the service.
Successful African-American comedian of the 1960s
It was rare that an African American would rise to great popularity in the entertainment business during this era, particularly when presenting their acts in nightclubs with predominantly white audiences, but Gregory was the guy that got it done. His talent had appeal and people from all walks of life were entertained with his folksy style of humor. He conquered the night club scene and then found himself invited to perform at the Playboy Lounge in Chicago, at the invitation of Hugh Hefner. His acts incorporated commentaries about discrimination and segregation into the humor.
Message well received
The massive success that Dick Gregory achieved in the 1960s is proof that there were changes happening within the social climate and fabric of the nation. Gregory maintained his political goals throughout his lifetime. His was a message of love, and in retrospect, it is obvious that the country was ready for a positive change, at least in several sectors of the population. Love trumps hate, it's just common sense, but it took a very special person to present the message in a way that would help people embrace the concept.
He was instrumental in helping a nation realize the need to address the problems of segregation and discrimination in the nation. He's one of many and his contributions shall not be forgotten, nor will the legacy that he has left behind be pushed aside for more modern materials. In the same regard that Frank Sinatra and Dean Martin are still remembered by the fans who adored and respected them, Dick Gregory will be fondly remembered and the performances we'll captured will remain relevant, especially in this era.
Gregory's legacy in print
Dick Gregory leaves us with two important written works. His autobiography was published in 1964 titled "N…..: An Autobiography." He spent time in the middle to late 60s working with Dr. Martin Luther King Jr. and advocated for civil rights for a number of oppressed groups of people. In his final years, he released his book "Defining Moments in Black History: Reading Between the Lies. He addresses relevant issues including police brutality. He called on communities to work together to problem solve and remained active spreading his message of love and humor until his work on this earth was completed. Rest In Peace Dick Gregory, you will be sorely missed.