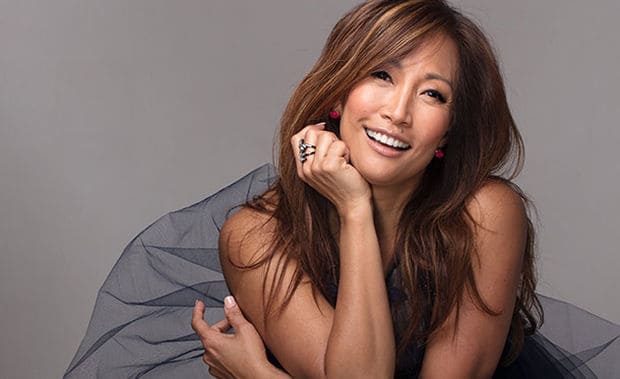 If she looks familiar it's probably because you've been watching Dancing With The Stars. Carrie Ann Inaba has acted as a judge on the show but has had a rather impressive career to date. She's been featured in film and on TV for her dancing abilities and has choreographed a fair number of TV series as well. To this point she's been highly recognized for her dancing abilities and has even acted out a few scenes throughout various movies in the past. One notable moment was when she played the character of Fook Yu in Austin Powers: Goldmember. Inaba has led what looks like a busy but also fun and engaging career thus far, and she's nowhere near done yet.
Here are a few things you probably didn't know about her.
5. She started out as a singer in Japan.
It seems at one point or another a lot of entertainers from a lot of different venues make their way overseas and do whatever it takes to make sure that they gain yet another group of fans so that they can gain worldwide acclaim. It's pretty smart actually since word of mouth travels faster than anything except the internet. Of course back then Inaba had to rely on people actually talking to each other since the internet wasn't the force it is now.
4. She was one of the original Fly Girls on In Living Color.
That's a bright red feather in a dancer's cap right there. In Living Color was known for its comedy but was also know for the Fly Girls that were out there dancing every episode and were featured at the beginning, sometime in between, and at the end more often than not. This is also where Jennifer Lopez got her start as well, so Inaba was definitely in good company.
3. She is of Irish, Chinese, and Japanese descent.
Without meaning any offense that is an interesting mix of genes. It's not entirely unheard of to see Asian and European bloodlines mingling like this but it's still enough to raise an eyebrow and wonder how or why it happened. Honestly though it's more interesting that she has such a diverse background. I kind of wonder if she identifies with all of them or with one more than the others. Just curious is all.
2. She was born and raised in Honolulu, Hawaii.
Ever hear that it's insanely expensive to live in Hawaii? I get the feeling that those who are born and raised there are well aware of how to make it work and to live within their means where tourists and new residents struggle. Just like with any town or city you tend to learn how to live within your means and possibly avoid the pitfalls that tourist traps use to bilk people.
1. Her start came from a talent show in Hawaii.
When she was 18 years old Inaba won a talent show and was then taken to Japan to try to build up her stardom. Obviously something went right since at this time she's definitely living it up.
She might be a decent to good singer but her dancing skills are likely what people will remember.