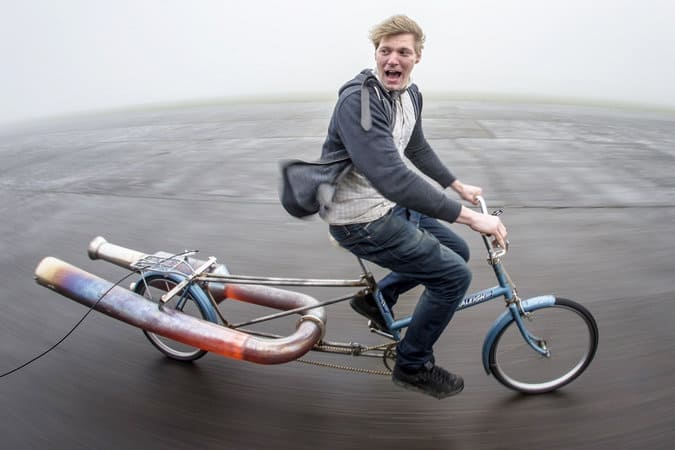 Colin Furze is a fairly well-known YouTuber who is popular for his inventions, stunts and the films that he makes. He's an amazing entertainer and has used his talents as a plumber to create some pretty cool inventions. He's known for making the world's fastest pram, the longest motorbike in the world and a motorcycle that is jet powered, but here are five things that you didn't know about him.
1. He was arrested for possession of a firearm
Everyone knows that it's a no-no to possess a firearm in the UK, except under certain limited circumstances. Furze didn't intend to break the law and he wasn't aware that one of his inventions would be considered a firearm. In March of 2010, he built a scooter which he converted by infusing a flame thrower that had the capacity for shooting falmes in the air fifteen feet. He uploaded the video on the thirteenth and was arrested on the twenty fifth for "possessing an object converted into a firearm." He spent a night in jail ove rthe affair but was released the very next day with the charges dropped.
2. He received a massive 3 million views on one post
This is good no matter how famous you are. The YouTuber uploaded a video that was the kick off for an X Men characters special event. He designed a penumatically operated set of Wolverine claws that were very realistic. It only took a week after posting the video to reach the three million views mark.
3. He tried for the Guinness Book of World Records
Furze attempted to make the famous record book with a hopped up mobility scooter that he had modified himself. He used a a125 cc engine from a motocross bike and spent three months working on the project. The scooter reached a remarkable 71 miles per hour. He made another attempt in 2017 with a Bumper car. Furze achieved a speed of 100.336 miles per hour and was approved for entry in the book on this run.
4. He was honored as an expert on "Gadget Geeks"
Colin Furze' fame spread well past his YouTube videos and he was invited to appear on the Sk71 series "Gadget Geeks in 2012. He has also appeared on "Outrageous Acts of Science" on the Science Channel. His inventions have gained him a ton of attention and some acclaim.
5. He is a high school dropout
Furze was born in Stamford, Lincolnshire, England in 1979. He left his education at the young age of just 16. The teen pursued an opportunity to acquire a trade by which he could earn a living. He successfully became a plumber and worked at the job until he joined up with Sky1 "Gadget Geeks," and the rest is history. He's one of the most interesting personalities on YouTube today and he continues to invent and amaze us with his creations. The guy who didn't even finish his education is teaching us a lot about engineering and physics. He has also authored a book titled, "This Book Isn't Safe." Fans are always on the lookout for his next great gadget.
Save