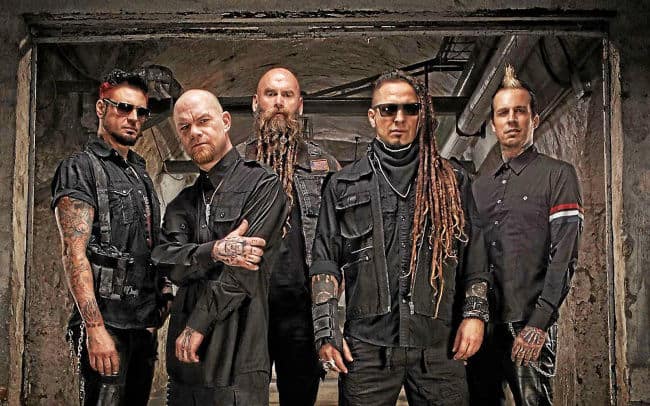 Five Finger Death Punch, or 5FDP, or Death Punch, or whatever you want to call them, has been one of the most successful heavy metal bands in the past decade and are still rocking just as hard as they continue to push their sound onto willing crowds all over the world. When they started out not a lot of people knew who they were, as is normal with any band. But once people got a load of their sound they went absolutely nuts for the band, demanding more and more as their popularity began to rise. They've sold millions of albums at this point and are still able to command a sellout crowd depending on where they go.
It's hard to really narrow down what kind of heavy metal band they are, but just calling them awesome seems to cover it.
5. Their name is taken from a movie.
Their name comes from the kung fu movie Five Fingers of Death. If you look at kung fu movies both back in the day and from fairly recent however you might see a wide variation on five fingers of death as far as the technique and how it's used. But naming your band after such a thing is just flat out awesome. Living up to the hype that the name creates however is even more so.
4. Their second album sold over a million copies.
War is the Answer, their second album, easily sold over a million copies and it's the album that introduced a lot of people to the band finally. Those that had been with them since the first album came out and before that were among the many that bought the second and third albums and were busy memorizing the songs before they went to the concerts that the band does so frequently.
3. At the 2010 Download Festival their set was cut short.
The only problem with crowd surfing comes when too many people decide to try and do it all at once. The stage might seem like a big place but it can fill up pretty quickly. Because of the number of people that were coming up on stage the band was allowed to finish their current song and then had to vacate so that security could clear the people out.
2. One of their songs is included on Madden NFL 12.
This is just one mark of success when your songs start to be featured in video games. This kind of exposure is hard to beat since not only do many upon many people play video games, but they tend to enjoy the music that goes with them since depending on the game it can really help the players to channel their inner aggression and focus when they need to.
1. Their label filed a lawsuit against them in 2016. 
Their label found out that they were recording another album with their knowledge. The band was planning on working on the album with another label, and while there was a lawsuit filed it doesn't seem like it's stopped the band's momentum any.
Just walk away, there was never any hope.