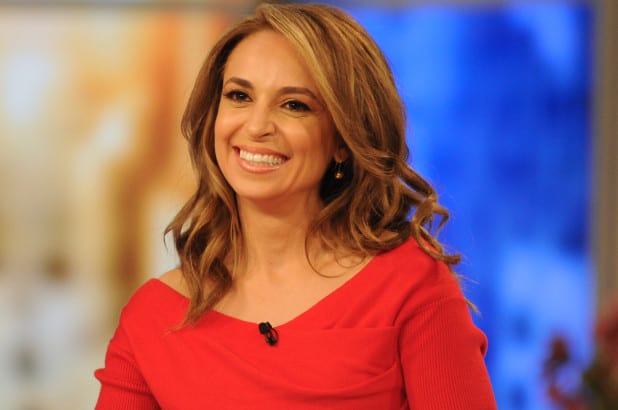 Jedediah Bila, a former co-host on "The View" married Jeremy Scher in an intimate ceremony Saturday, February 17. Since leaving "The View" last September, Bila has been busy writing a book. The native New Yorker has worked as a teacher, columnist, news contributor and panelist. She recently said that she is juggling a few different projects.
Here are 5 things you didn't know about Jedediah Bila.
She married Jeremy Scher
Jedidiah Bila was excited to announce her engagement to Jeremy Sher on "The View" last summer. Sher graduated from Rice University and works in Strategic Publishing Ops and Corporate Strategy for Hachette Book Group in New York City. The columnist and her publishing beau celebrated their wedding with 60 guests in a traditional ceremony in Huntington, New York. Wedding planner Michael Russo events created a traditional yet whimsical setting filled with flowers for a garden vibe. Bila wore a traditional white lace ball gown style dress by Rivini and wore pendant earrings by Susan Hanover. Her white gold eternity wedding band features wrap around diamonds. The groom wore a traditional tuxedo and sports a simple yellow gold wedding band. Former "The View" co-host Sunny Hostin attended the wedding. Filet Mignon and Seared Atlantic Salmon were served at the dinner reception that was topped with a vanilla and chocolate cake with mousse filling. Guests danced to retro music.
She's a New Yorker
Jedidiah Bila was born in Brooklyn, New York on January 29, 1979. Her family is of Jewish Italian descent. Her unique name is from a the 1970's television series "Barnaby Jones" character, Jedediah Romano "J.R." Jones. She was a dedicated student and ran track in high school. Jedediah received her Bachelor's degree in Spanish with a minor in business administration from Wagner College in Staten Island, New York. She received her Masters of Arts in Spanish literature at Columbia University. Jedediah Bila began her career as a teacher. She has taught middle school and high school as well as college courses. She also served as an academic advisor and dean at the high school level.
Her career in media
Over the course of her career, Jedediah Bila has worked as a columnist, contributor, panelist and host in media. She has written for several news outlets including HumanEvents.com, DailyCaller.com, NewsMax.com and AMAC. Jedediah became a contributor at Fox News and was often a panelist on shows including "Red Eye" and "Outnumbered" for the cable news network.
Politics
Jedediah Bila is known for her conservative political views. She has consistently argued the conservative point of political issues in her work as a columnist, news contributor, and television and radio host. Bila voter registration lists her as an Independent. She describes herself as aa conservative Libertarian.
She left "The View" after just a year
During the twentieth season of "The View", Jedediah Bila served as the conservative voice on the panel of ABC's daytime talk show "The View". It's often a difficult job to be the conservative voice of the co-hosts of the show. Jedediah held her own during her tenure on the talk show. She was also nominated for an Emmy Award. Still, it came as a shock when Jedediah announced her departure from the show in September 2017. She was replaced by ultra conservative Meghan McCain, the daughter of Senator John McCain. Since leaving "The View" Jedediah has certainly spent much of her time planning her wedding. She has also continued work as a columnist and radio news panelist. She is also currently writing a book.