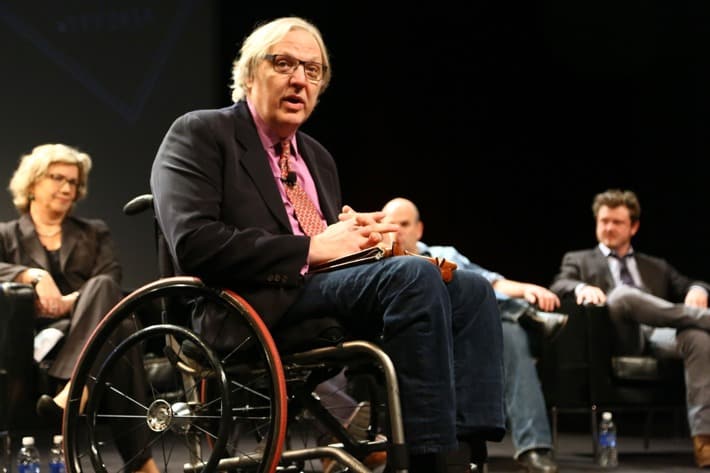 John Hockenberry is an American author and journalist who is best known for his contributions to the television shows, "Edgewise," "Dateline NBC," and several news stories that he's covered. Hockenberry was recently accused of sexually harassing author Suki Kim. She claims that he sent her inappropriate emails and that he also harassed three more women besides her. Hockenberry responded with horror that his actions may have caused people to feel this way. He admits to acting rudely and inappropriately and is apologetic for his actions. Aside from this, there are many things that viewers and listeners don't know about John Hockenberry, and here are five of them.
John Hockenberry introduced himself as the harpsichord affairs correspondent.
This happened on one occasion as he shared that he had just returned from a two week honeymoon in Hawaii. The crowd applauded him with a congratulatory round. What many people don't know about John is that after the accident that injured his spine and put him in a wheelchair, he entered college in Oregon and studied piano and harpsichord.
He developed a good rapport with Prime Minister Rabin
Hockenberry interviewed the Prime Minister on two occasions, and as he rolled up in his wheelchair, the PM noticed him right away. He asked John about the chair each time they met. Rabin had a great deal of experience with paraplegia and had a sensitivity to it. He discussed challenge and adversity with John and the two had something in common they could discuss in addition to the interview questions.
John didn't let disability slow him down
John Hockenberry deals with challenges every day of his life. At just 19, an accident rendered him paralyzed from the mid chest downwards. This didn't stop him from becoming a successful news correspondent, radio personality, author or husband. He's also a popular author. He's been around the world and he's living proof that life can get tough, but Hockenberry got tough right back and is living his life to the best of his ability.
John Hockenberry has written for prestigious news agencies
Hockenberry didn't limit himself to news correspondence or television reporting alone. He has written news articles for The New Yorker, The Columbia Journalism Review, Wired, Metropolis, The Washington Post and The New York Times. He's a prolific writer with a wealth of life and professional experiences that inspires his creative and informative writing style.
He's a conference presenter and moderator
In his long and successful career, John Hockenberry has served as moderator and presenter at several different conferences across the globe. His specialty is in design and idea themes. John has appeared as a special speaker at the World Science Festival in both Brisbane and in New York, at the TED conference, for the Aspen Comedy Festival and at the Mayo Clinic's Transform Symposium.
John Hockenberry is a remarkable man that has achieved success in most things that he's set his mind to. We're not certain about his piano or harpsichord skills, but as a writer and journalist, he's excelled. He's traveled the world as a correspondent and interviewed world leaders.