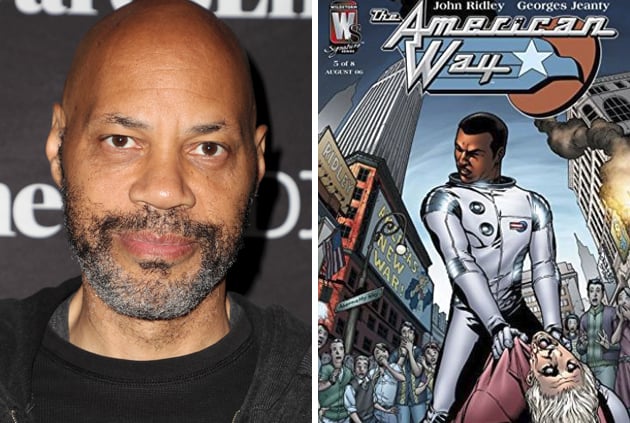 John Ridley is one of the most talented writers of the current era and is also responsible for a comic book series that has managed to get the attention of many people lately. He'll be teaming with Blumhouse Productions to bring forth The American Way: Those Above and Those Below, a comic series that shows the social issues of the time and is set in the 1970's. This comic is no doubt going to shock a few people but will perhaps open the eyes of many and show them a new kind of hero that has yet to be revealed.
With his writing it should be something fun to watch.
5. He wrote a script for Beverly Hills Cop IV.
Unfortunately this script was rejected. It's not going to be known if it would have topped the third movie but considering how the two sequels to the original went it might have been a blessing in disguise. Without any disrespect to Ridley's writing the second and third films weren't really up to the same standard as the first one. Beverly Hills Cop was probably best left to being a single movie.
4. He used to perform standup comedy.
It's pretty obvious that Ridley has a sense of humor seeing as how his scripts add a good deal of hilarity to them. But after college he decided to try his hand at being a comedian and it seems like he did pretty well to be honest. But it would also seem that he eventually found that he preferred letting his humor be read in the scripts and the comics he would eventually produce.l
3. He's written for TV sitcoms.
He's written for shows like Martin, The Fresh Prince of Bel-Air, and a few others in his time. The scripts that were delivered to each show have proven to be more than just funny, and in fact were iconic in many ways since some of the lines have been spoken for years after the shows that used them went off the air. It's obvious he has a great sense of humor since it comes out so easily, especially when given to those that can deliver the lines so perfectly.
2. He wrote the screenplay for 12 Years a Slave.
He became the second African American to win the Academy award for Best Adapted Screenplay. This is just one more way to prove that he really knows what he's doing and that he's one of the better screenwriters in America today.
1. He continued to work during the writer's strike of 2007-2008.
It's fairly obvious that he would have his own reasons to continue working during the writer's strike but it does show that he's more about his work than anything. Writing can be very lucrative if you manage to get into the right circles and are good enough to draw the big bucks. But even if you don't manage to find the right venue writing is still far more than just a way to make money.
Telling the story is what it's all about after all.