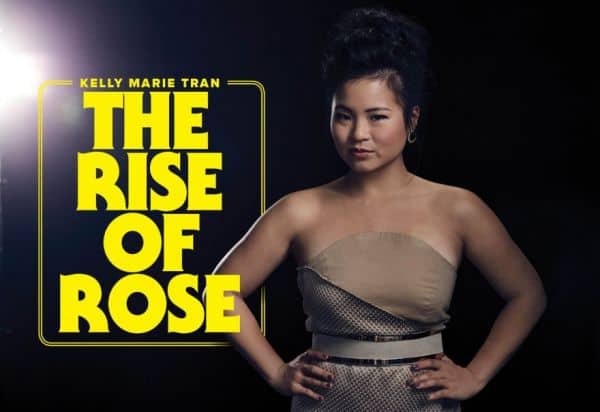 Kelly Marie Tran is something of a success story that's still in the process. As a self-described nerd she's been deeply into the fantasy genre for a while and yet has just recently broken into the film industry. Up until her break she worked in an office job in Hollywood for years, no doubt always dreaming of landing a role that would suit her best but never quite getting there until around 2015. Like so many other hopefuls she did whatever it took to get to where she wanted to be and continued to push forward until that fateful day when she was given the call that would eventually change her life. As of now Tran is on the right track and should be able to make her career into whatever she wants, providing of course that is willing to work for it.
Personally I think she'll do just fine.
5. She was part of an improv group.
The musical improv group that she was a part of was called Hug Bear. Improv is interesting largely because you never really know what's going to come next, which is the whole point. The fact that she did improv however makes me wonder if she'll be allowed to do the same in her upcoming roles or if she'll be directed to simply stick to the lines she's given.
4. She went to acting class.
Tran is an alumnus of Lesley Kan and Co. along with several others. It's interesting to see just who takes acting classes and goes off the cuff these days. A lot of studios seem to want people that can act, but this doesn't necessarily mean that they want formally-educated actors. It means that they want people with experience as well as intelligence.
3. Her first film credit was in a short film.
She was in a short student film at San Diego State University, and it was here that she got noticed for the first time. It wasn't anything that big at the moment but the fact that she gained even a little attention was a step in the right direction. Since that time she's been acting as much as she can while still attempting to get her name out there and land other roles.
2. She's a big Harry Potter fan.
As I said she's a self-admitted nerd and proud of it, as well she should be. Harry Potter fans aren't weird really, they're just passionate about what they like and enjoy watching and reading. The Potterverse has actually become a bit of a rival to other universes throughout Hollywood, but has not managed to eclipse them all just yet. There are a few holdouts left.
1. She never watched a single Star Wars movie. 
That's not unheard and she's not the first cast member to be selected for Star Wars that doesn't know the story inside and out. As Rose Tico though she's going to be set to make her mark in the franchise come next month. We don't know much about her role yet since everything's been kept pretty hush-hush.
She could be awesome to watch, and I'm betting she'll be able to use Star Wars as a jumping off point for her career.