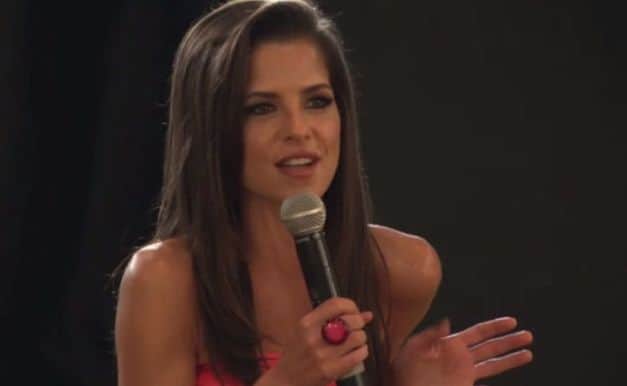 It's easy to think of models as people who only get by on their natural beauty. However, the truth is that many models have extremely diverse skillsets that they employ to find success in a number of different fields. Some models have the work ethic and skill to branch out into other domains like acting. Such is the case with the incredibly talented and famously beautiful Kelly Monaco.
Monaco is an exceptionally talented model who has achieved more success than most models could dream of. However, that is not where her career ended. In fact, she may be just as well-known for her work in other fields, including acting on General Hospital and winning Dancing with the Stars. Anyone who does not know much about Kelly Monaco will be interested in these five facts.
5. She is extremely athletic
Naturally, it would be difficult to achieve incredible success as a model without being in shape. Monaco, however, trains her body to do more than look good in front of a camera. She is actually an amazing athlete, and she was competed in sports like swimming, track, and softball. In addition, she was a lifeguard earlier in her life. Anyone who thinks of models as dainty should take a hard look at Monaco's athletic prowess.
4. Kelly Monaco Net Worth
Monaco may not be the most famous model in the world in 2017, but that does not mean she is financially struggling. In fact, her current net worth is estimated to be somewhere around $4 million. This incredible sum has been accumulated through a combination of things. Most notably, she has likely earned a great deal of money through both her acting and her modelling work.
3. She survived a burglary
The life of a beautiful actress must seem perfect from the outside, but Monaco would be the first to say that her life has been far from perfect. One of the most harrowing moments of her life occurred in 2009, when her hotel room in Las Vegas was broken into. Monaco had the good sense to hide while the burglars were in her room. Later, justice was served as the burglars were sent to prison.
2. She is a highly accomplished model
Most people know Monaco as a talented model and actor. Few, however, realize just how distinguished her modeling career truly was. Not only did she model for one of the world's most famous publications in Playboy, she was even named "Playmate of the Month" in April, 1997. She also appeared on the cover of Maxim and was named in the magazine's "Hot 100 List" in 2006.
1. She does a great deal of charity work 
Monaco is talented, wealthy, beautiful, and famous. It would be easy to become conceited if these types of words defined you. However, she somehow manages to stay grounded and focused on making a positive impact on the world. Some of her most notable work has been through charities like Feed the Children, as Monaco has travelled to Africa to help deliver much-needed food and supplies to children.
Kelly Monaco has established herself as one of the most decorated and talented models in recent history. She has also made a name for herself as an actor, starring in productions like General Hospital. However, what fans may not realize is that Monaco is also an incredible athlete, a quick thinker in harrowing situations, and a very generous individual.