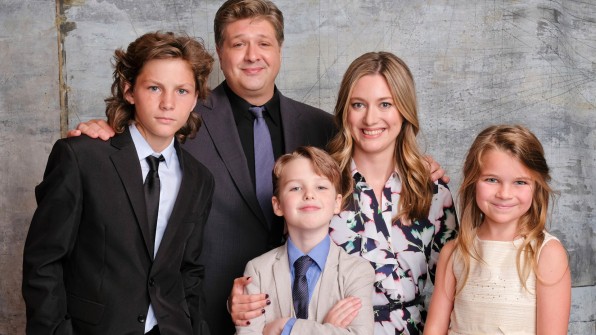 The hilarious Lance Barber best known for his role as Paulie G in short-lived cult comedy The Comeback is returned to the small screen as George Cooper Senior in Young Sheldon. Young Sheldon is a spin-off of the massive TV hit Big Bang Theory and it is the latest TV show from CBS this Fall. Barber's previous TV roles have included roles in wildly popular TV shows and comedies including The Big Bang Theory, It's Always Sunny in Philadelphia and CSI: Miami. Barber is a hardworking actor who has a regularly presence on our favorite shows but little is known about the actor and comedian. Here are five things you didn't know about Lance Barber.
Lance Barber was turned on to acting at an early age
Lance caught the acting bug early in his life with a childhood role in the school production of The Hillbillies. After a stint at Barn Theatre, he went on to graduate from community college with a degree in performing arts. From there he moved to Chicago where he studied at The Second City and famous Improv Olympic. He performed numerous times in the Chicago Comedy Festival and co-founded the improve group the G.O.P. He has spent his entire adult life working as an actor with numerous parts in popular TV shows and his worked steadily for all those years.
He stared in the HBO's The Comeback
Lance Barber best known role was as Paulie G, in The Comeback where he played a belligerent TV Reality show producer opposite Lisa Kudrow. The show initially received lukewarm ratings and was axed after one season. The fan base grew and in it developed a cult following. In 2014 in response to the pressure from supporter's HBO reprised the show. Barber credits the role with the success of his career saying that although it had not been widely viewed it had been seen by all the Hollywood movers and shakers which he said opened doors for the hard working actor.
His First TV role was in ER
He got his TV start in the much loved medical drama ER which is based in Chicago General Hospital and follows the professional and personal lives and losses of the doctors and their patients. His first TV role was a bit part in ER in 2001 in an episode called Start All Over Again in which he plays Howard Norden.
Lance Barber played two different roles in Gilmore Girls.
Lance Barber is one of nine actors who played two separate characters in Gilmore Girls. Fans of the show will have noticed many actors who had small roles before they rose to greater fame. Lance Barber first role in Gilmore Girls was to play a man assisting to build the stage for the memorable mother-daughter fashion show. His second role in the cult classic Gilmore Girls was that of Hugo, who is the editor of the online magazine where Rory works. Fun piece of trivia, Seth McFarlane also plays two different roles on the show.
Lance Barber is married.
Barber stays out of the limelight and is not often seen at celebrity parties with a co-star on his arm. The 44 year old comedian and actor is happily married. He's a devoted family man who lives in LA and is raising small children with his wife, Aliza. His wife, who is a chef, is from Chicago and the two try to spend as much time there with the extended family as they can.
We can't wait to see more of Barber on the hit sitcom Young Sheldon on Monday nights on CBS which is already winning record audience numbers.
Save