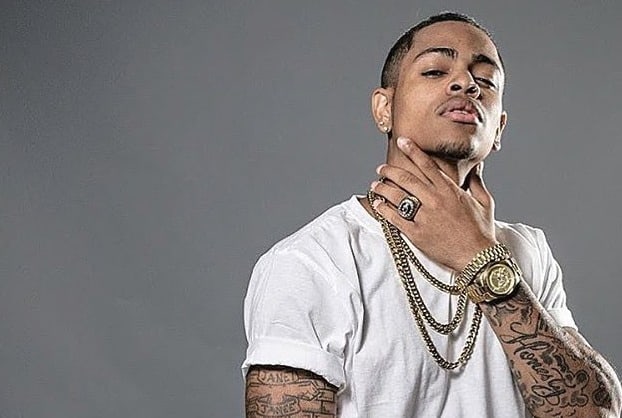 Well, as you are surely aware of by now, the internet has absolutely no chill when it comes to drama and gossip surrounding celebrities, especially those celebrities that you constantly struggle to understand why they are celebrities in the first place. The latest buzz on the internet is the scandal surrounding Black Chyna's leaked tape. Yes, the same Black Chyna who dated Rob Kardashian and left him high and dry. So, when I tell you that she leaked a sex tape of her and her ex-boyfriend, rapper, Mechie, you should not be surprised. Let's just say that Black Twitter is giving Chyna the business and the ex-boyfriend is not too happy about that tape getting out. But, what do we know about Mechie besides that he is a rapper (I use this term so lightly these days.)?
Here are five facts about Mechie that you up to speed on who he is.
1. His Identity (in the video) Was Outed by Rob Kardashian
For those who have been keeping up with the Kardashian saga, which includes the only male sibling, Rob, knows that Black Chyna is a very sore subject in that family circle. She took Rob for a ride that people are still talking about, but to be honest, she took the blueprint right out of the pages of his sister's lives. Rob actually posted on social media that Black Chyna sent the video to him last July as a Birthday gift. It I starting to appear that Mechie might have just been a pawn.
2. He Was an Original Member of R&B Group 4EY the Future
Born Demetrius Harris, the singer/rapper gained his current fame as a member of the R&B group 4EY the Future. The other members of the group included Leo Amari and Kenny Iko. The group is probably most recognized for its hit, "Scoot Ova," a song that became a viral sensation — spawning a dance craze. The group is still active today, with their latest single being "No Time to Waste," which features Wale.
3. He Had Vine Fame
Before the "Vine" shut down in January 2017 for good, Mechie had developed quite a following on the social media platform that was popular for being the platform where you could almost see anything. Mechie developed a reputation on the Vine of being silly and almost willing to do anything for a laugh. I guess that does not include performing sex acts for the world to see. There is even one Vine video that shows Mechie revealing his athletic capacity, dunking on the rapper, Rick Ross.
4. He Hinted About His Relationship with Chyna Before It Became Public
As the Kardashian clan and Chyna were feuding, Mechie threw himself into the mix as he hinted that he was involved with Chyna through his Instagram account. In the video, the young star is singing, but it wasn't the singing that was the problem, it was his song of choice that raised eyebrows. He was singing "The Weekend" by SZA which is supposed a song about side pieces.
5. He Does Not Want to be Involved in the Ongoing Feud
While the entertainer has been very clear in stating that he does not want to be a part of the ongoing feud with the Kardashians, he may find himself right dead in the middle of their crosshairs with the surfacing of this latest video and the manner in which it got out. It was Rob Kardashian attempting to make a point about how crazy Chyna is and now, Mechie, it looks like you are involved whether you like it or not.