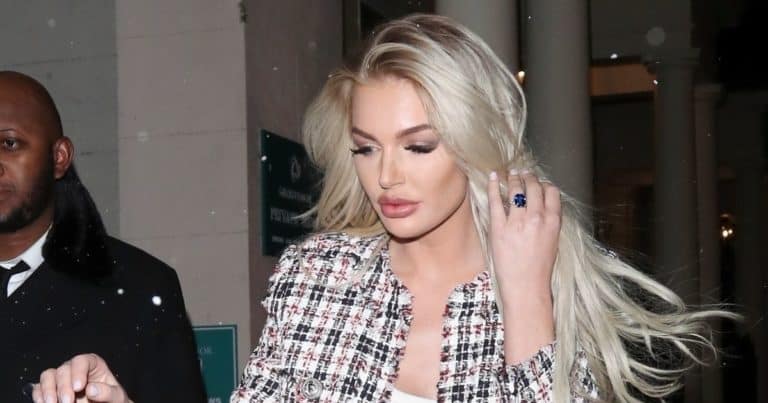 Okay, if you are into following the money crowd, then you are keenly cognizant of who James Stunt is. If not, I will simply inform you that is a billionaire with taste in gorgeous women. James recently (5 months ago) divorced his wife, and now he has a beautiful lady hanging on his arm who many are categorizing as his girlfriend. He didn't waste any time. So, who is this girl hanging on Stunts arm? Her name is Samantha Rowley, and she is no slouch herself. Rowley recently showed off her body at her BFF's, Laura Zilli, wedding reception (which was held on a beach).
Well, who is this gorgeous socialite who seems to have access to virtually anyone who is someone? Here are five things to give you some insight into Samantha Rowley.
1. She is of British Descent
Samantha was born in 1988 in Great Britain. She has achieved a great deal of success as an actress and model in the United Kingdom. She has starred in several movies, but a great deal of her success has been on the model search show, Make Me a Supermodel. The gorgeous model has used her beauty and success to pave out a successful and burgeoning career.
2. She is Currently the Face of MTVN
MTVN stands for MTV networks in High Definition, which produces MTV Uncompressed. As MTV continues to expand its brand, Samantha gets to enjoy the ride as long as she remains the face that is representing that brand. She has definitely positioned herself for long-term success. Those closest to her reveal that she has still found time to nurture her modeling career.
3. She Obviously Has a Feddish for Reality Television
When I speak of her fetish, I am not speaking of her starring in a reality series, I am speaking of how addicted she is to watching reality television. You would think that someone who was considered a socialite would have very little time to watch television. But then again, you can watch television from almost anywhere now. Technology has definitely changed the game.
4. She Admits that She is Changing with Time
The model-actress recently tweeted, "Isn't it funny the things you get off on when you are older?" She was referring to the fact that she was looking at tile samples for her pad and she was actually getting off on it. Yes, even gorgeous fashion models mature and grow with time. At least most of them. There are some out there who will never grow up, but Samantha seems to be aging gracefully.
5. She Doesn't Seem to Be Fond of Fur
On more than one occasion, the star has gone on rants about not being able to find coats without fur. This is a significant departure from the norm when it comes to fashion and swimsuit models, who can't seem to get enough fur and mink. Samantha has made it clear that she prefers her coast without fur. Who knows, maybe PETA can use her in one of their campaigns.