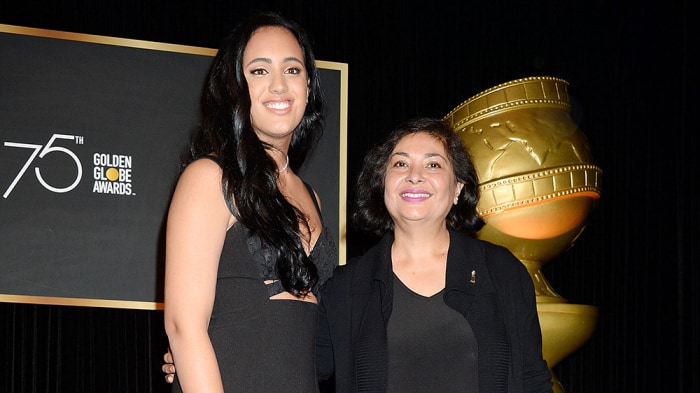 Simone Garcia Johnson has recently been selected as 2018's Golden Globe Ambassador. It is a role that was formerly known as Miss Golden Globe. She follows the footsteps of Corinne Foxx, Jamie Foxx's daughter, three of Sylvester Stallone's daughters, and other Hollywood offspring like Dakota and Laura Dern. Accepting the part of Golden Globe Award's 75th anniversary, she said that it was an honor and she hopes that she will serve as young people's role model globally empowering them to speak out on all the issues they are passionate about. Other than the fact that she is Dwayne "The Rock" Johnson's offspring and possible first daughter in 2020, here are some things you may not know about her.
She does not Live with both her Parents
Her dad met Simone's mom Dany Garcia in Miami where they were both university students. They got married in 1997 and Alexandra was born in 2001. Things, however, did not work out and they divorced in 2008. Both parents share custody. After being an only child for many years, she is now an older sister to Jasmine Johnson's daughter who was born in December 2015.
She has a very Strong Bond with her Dad
Simone Garcia Johnson is the perfect example of a daddy's little girl. Both have an incredibly unique bond, and Dwayne confirms this countless times. Garcia accompanies her father to multiple A-list and social media events. She has probably been to more Hollywood events than many celebs. The Rock loves her unconditionally and recently he posted that he could not stop admiring the fact that his daughter has grown into a beautiful woman. His post read "it is the most powerful, unique, irreplaceable, loving, one of a kind bond on earth."
She is one of Wrestling's Biggest Fans
It is a wide-known fact that Dwayne was a big deal in the wrestling world. It comes as no surprise that his daughter is a huge fan as well. However, what interests Simone the most is women who wrestle. The young lady admires how focused and robust the women wrestlers are. She has posted several times on her Instagram page expressing love for the sport. In one she reveals how she was excited to view a match. She wrote that she was able to witness five incredible ladies make history. Garcia continued to state that she felt blessed that she was able to grow up in a time where there were such powerful women she could admire. She even thanked the players for making women in the past proud and paving the way for ladies who want to wrestle in the future.
She is a Professional Model
Simone Garcia Johnson keeps her professional life in the family. She is an expert model who IMG represents. Her father who is rumored to be a presidential candidate in 2020 is a long- time client of the sister client known as WME. Endeavor owns both agencies.
She is Vocal on her Official Instagram Page
She is socially liberal who speaks clearly and loudly to her followers. She has blasted star magazine for how it treats the topic of celebrities gaining weight. Garcia also has a post calling out Donald Trump when he incited violence from the people who support the president. She also showed support for a cheerleader in Georgia Tech who took a knee when the national anthem was playing. Recently she had a post with a T-shirt saying that if fertilized eggs are people and refugees are not, there is a problem.
Photo by Broadimage/REX/Shutterstock