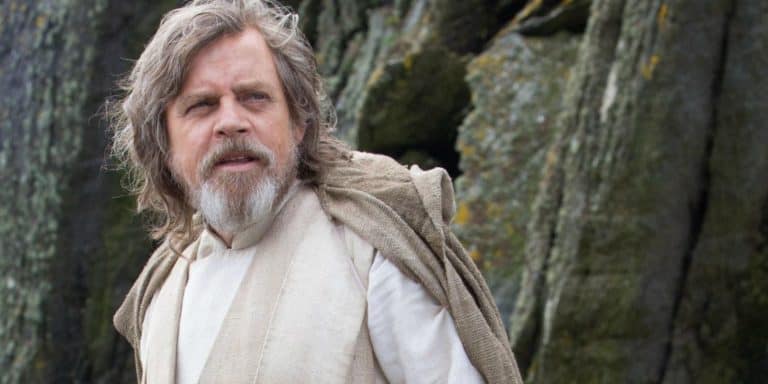 Much to the delight of fans, Mark Hamill recently made an unexpected appearance at Star Tours. It was not clear whether this was a promotional strategy of Lucasfilm or if it was just an impromptu visit inspired by Hamill's quirky behavior. As 'Star Wars: The Last Jedi' is due for release soon, Lucasfilm has been putting extra efforts into marketing the film in preparation for its release. Regardless of the motives behind the Disneyland visit, it was certainly a pleasant surprise for fans who were attending the attraction that day.
Hamill has got involved in many of the promotional efforts for 'Star Wars: The Last Jedi' and he has had plenty of fun with these over recent months. He has had particular fun with fan theories and memes and artwork created by fans. Considering he is a central figure in the movie, it is unsurprising that he has been interviewed about the film on many occasions by the media recently. This has given the actor the opportunity to talk about how he is enjoying making a return to the franchise as he previously made a brief appearance in 'Star Wars: The Force Awakens'.
His fanbase has grown massively while he has been taking part in these promotional events, so it is no wonder that Mark Hamill has had so much fun. As he is enjoying the experience, he has become a fantastic ambassador for the movie.
Hamill has posted a clip of himself making the surprise visit to 'Star Tours' on his official Twitter account. The clip shows the host of 'Star Tours' announcing that there is an unexpected and exciting special guest arriving that had a strong 'Force'. To the gasps of fans attending the event, it was at this point that Hamill made his surprise appearance. At first, the guests were dumbfounded by his arrival, but they then broke out into cheers. Hamill added a caption to his Twitter post saying that he had finally fulfilled his dream of working in Disneyland.
Although Mark Hamill has a fun and bubbly personality in real life, the character he plays in the upcoming movie. When he returns in this film, Luke Skywalker is a changed man. His darker identity is as a result of the mistakes he has made in life which have left him traumatized. It is not yet clear whether he will return to his former self by the end of the film or not. One thing we can be sure of is a brilliant performance from Mark Hamill.
'Star Wars: The Last Jedi' is the second film in the Star Wars trilogy and is written and directed by Rian Johnson. Alongside Mark Hamill, the movie stars Adam Driver, Daisy Ridley, John Boyega, and Oscar Isaac. This was also the last acting role of Carrie Fisher who plays General Leia Organa as she died in December 2016. Fans don't have too long to wait to see the movie as it is set for release on December 15, 2017. This movie will be followed by 'Episode IX' which is the final film in the trilogy and is set for release on December 20, 2019.
It took me long enough- but my childhood dream of working Disneyland finally came true! #TheLastJedi #StarTours @DisneyStudios @StarWars pic.twitter.com/mgDzgCjSRr

— @HamillHimself (@HamillHimself) November 15, 2017