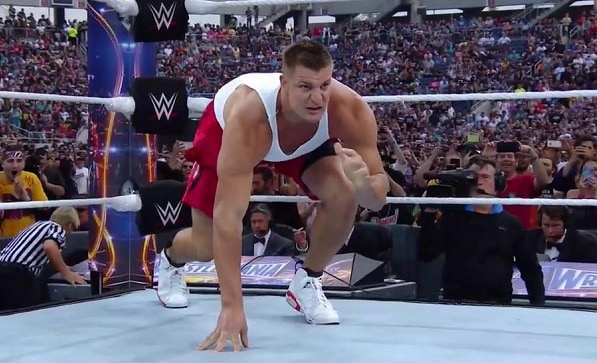 Now that he's thinking of retirement, Rob Gronkowski of the New England Patriots is being urged by both The Rock and Sylvester Stallone to think about shifting his focus to movies. To be fair Gronk was thinking about retiring before the Super Bowl ever came around. He loves the sport but it's been taking a serious toll on his body over the years and his decision isn't being made lightly. The last concussion he received during the AFC Championship game seems like it might have pushed him closer to a decision and might even help him to consider what he has left and what he can do with it.
New England fans would be sorry to see him go for certain since he's been one of the most dominant tight ends in NFL history, but any player does need to recognize when his body is starting to fail him and what it might mean if he ignores those signs. It's hard to give up something you love doing but the truth of it is that you only get so many years of high performance before your body starts winding down and the hits take longer to recover from. Gronk has had his fair share of injuries and more but he's always come back somehow, still determined to help his teammates and do whatever he can to make sure that they reach the postseason. This time however he might really be considering saying a final farewell to New England. If that's the case then Dwayne Johnson and Stallone would certainly love to welcome him into the fold.
Both men have been around Hollywood long enough to know by now that Gronk could make a great deal of money and lessen the impact on his body when it comes to the stunts he'd have to do. While Stallone isn't much of one to talk when it comes to damaging his body, he's taken a lot of punishment too, he could certainly teach Gronk a few things. Johnson hasn't been an actor as long as Stallone but when it comes to high impact and learning how to take a hit, even a fake one, he could dole out some very needed lessons too. Gronk might be a natural when it comes to stepping in front of the camera, but the only way to know would be if he took that desired direction.
Right now it sounds like he's intent on taking a few weeks to mull things over and figure out just what he wants to do with his life. His team just took a hard loss considering how many yards Brady threw for and how many touchdowns they scored. It just wasn't enough to topple the high-flying Eagles, who just celebrated their very first Super Bowl win. It might take a little while for the sting of that loss to fade, but in that time Gronkowksi is going to have a tough decision to make. He might love the sport, but right now it's time to think about the health he's got left.