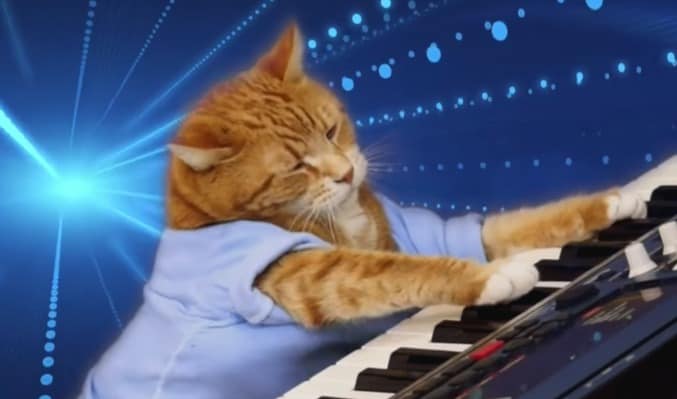 With all due respect to Bento the Keyboard Cat, as he just passed away from liver cancer at age 9, people are getting nuttier as time goes on. Bento wasn't the original keyboard cat, as his owner Charlie Schmidt had a cat that was close in appearance to Bento that he recorded in 1984 playing the keyboard in a baby shirt. He had no kids at the time so why he had a baby shirt was kind of odd but when he later on digitized the VHS that he'd used to film the first cat, Fatso, Schmidt didn't think anything of it. He was simply trying to relieve his boredom and came up with a funny idea to film his cat playing the keyboard. When he put it online after digitizing it though he got the kind of response that he didn't expect. People loved it and started to idolize the cat. When Fatso passed away Charlie eventually went out and found Bento, whom he adopted, and then started up the act again
People go absolutely crazy for cats on the internet as it's been seen, but idolizing them seems to go a little too far. To each their own and all that but making a cat a sensation has become something that seems to have gotten a little out of control. True, when they flip out, fight, and act crazy online they are funny to watch, but so is just about any animal that freaks out for no apparent reason. Somehow people feel the tension of their day simply slip away when they see a cat in a funny video online, as though it's a balm to calm their nerves in some strange way. Those that get it would argue vehemently no doubt that cats are in fact just zany and worth watching since their antics can spruce up anyone's day and make them feel better about themselves. However, those of us that don't understand or just aren't cat people tend to look at those individuals and wonder just what's going on upstairs.
Cats are cute, yes. They're funny when they freak out or perform, yes. But idolizing and glamorizing a cat doesn't seem to be something that's really needed since the average cat seems to sleep through most of the day and only get active when they really want to. Some might argue that cats do more than other people think and are more lovable than just about any other animal, but the truth is that they're just as diverse as any other animal as well. Some cats are very active throughout the day, while some lie around and do absolutely nothing. Some tend to allow their owners to pose them and shoot funny videos that are somehow uplifting and able to entertain thousands of people if not more, while others would likely fillet their owners if they so much as came near them with a baby t-shirt.
Bento and Fatso were good sports about it obviously, and managed to inspire a lot of people.