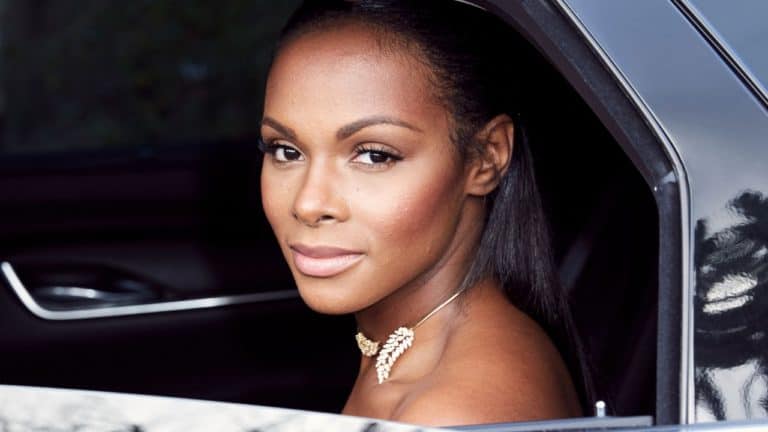 If you look at Tika Sumpter's life you get the feeling that she's had a pretty good run in life so far and not too many hurdles to cross in order to get where she's at. That story might differ the closer you get to her and the more you get to hear about her life, but at this point and time she seems to be doing very well with her career and has managed to place herself in a position where she's very comfortable and isn't in much danger of being unseated any time soon. In many ways this is the kind of position that a lot of actors would love to find themselves, having the fame and fortune while at the same time being able to know that they're doing just fine and won't be in danger of losing their status any time soon. It could be an illusion if you want the real truth, but it seems quite real at this point.
Here are a few things you might not have known about her.
10. She was a cheerleader in high school.
Fitness and appearance have obviously been a part of her life for a while since being a cheerleader typically means that you're in good shape, take care of yourself, and are concerned enough about your appearance that you'll tend to look your best more times than not. There's nothing negative to read into this as it's a goal of some that happen to know what they want out of life.
9. She majored in communications in college.
Along with theater and drama this seems to be one of the many majors that future actors or celebrities take a lot of times in order to have something in their background that makes them just a little more valuable if things don't work out, or just to have something else to fall back on. It's a wise move to be honest.
8. She worked as a waitress before acting.
Everyone has to start somewhere, and to be perfectly honest being a server is one of the harder jobs out there since you have to deal with people on a constant basis and have to be as pleasant as you can in order to really bet paid. So hats off to her for coming to understand what it means to really serve others for a while.
7. She's been a model.
Tika has the figure and the look for it and no doubt is quite revered in such a position. Of course reverence for a model seems to be a death knell for a career sometimes since it seems that this position is highly competitive in many ways.
6. She was in A Madea Christmas.
Some people love the Madea movies and others don't care for them quite as much, but the truth of them is that Tyler Perry did strike upon something that a lot of people managed to find incredibly humorous and in all fairness that made it something that is easy to be impressed with, even if a person chooses not to like it.
5. She's an honorary member of Alpha Kappa Alpha sorority.
It's odd to think how such things as honorary degrees and memberships to certain factions come about, but it's hard to question those organizations when they want to extend such an honor to those that they think are worthy. After all, the person being given the honor must have done something that was worthy of note in order to earn it.
4. Her career started in 2004.
She's been around now for over a decade so she obviously knows what she's doing and has been around enough to see and learn a few things. The generations of actors coming up are no doubt starting to feel what it might be like to take over from the previous generations that are still around.
3. She has an impressive following on social media.
This really feels as though it's standard for those coming up in the movie and TV circles to have a standing bank of social media accounts that are ready and waiting to be filled by followers the moment they start getting big. It's not that simple obviously, but looking at the numbers it's amazing how many people choose to follow celebrities.
2. She's been cast as the female lead in the upcoming Sonic the Hedgehog movie.
There's not much more to say about this since a lot of detail are being kept on the down low but at the moment it's enough to know that she's going to be showing up in the live action version of the popular video game.
1. She was worried about hate mail at one point for her role in one show.
Much of it had to do with the part she had to play and what people would think. But in truth no one really seemed to mind as much. Perhaps people finally realized that actors play a part, it doesn't mean that's who they are.
That last part is doubtful, but at least Tika is comfortable with who she is and what she's doing with her career.