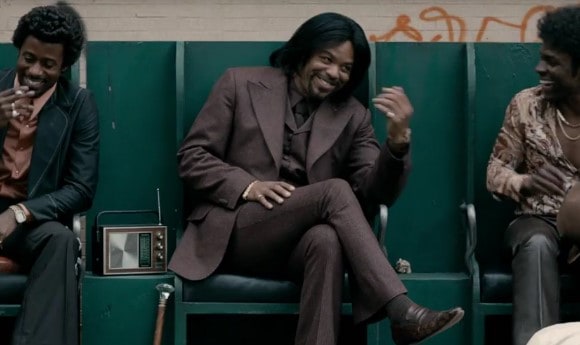 Clifford "Method Man" Smith began his career as a lyricist in the legendary rap group the Wu-Tang Clan over 20 years ago. Since then he has won numerous awards. Most for his work as a musician. But with time we have seen an evolution in Method Man. Fast forward to 2017 and he is a well-regarded actor. Currently in his recurring role on the HBO Drama series "The Deuce," it is on full display how serious Method Man has taken the craft of acting. Looking back at how far he's come I thought it would be fitting to rank Method Man's top 5 acting performances of all time. Let's start with this small role that definitely helped him pull in more serious acting roles.
Backstage – Himself
This documentary follows hip-hop superstars of the time Method Man, Red Man, DMX, Jay Z, Dane Dash and many more as they travel the country in what would become the biggest All Hip Hop tour of the time. Method Man doesn't do any acting in the documentary, however, we get to see an in-depth view of his hilarious and often quirky personality. It's clear throughout the documentary that he's the most comfortable of all of his fellow musicians in front of the camera.
Tug Daniels – OZ
Method Man's stay on the HBO Prison Drama OZ was short lived but it showed that Method Man had the chops to be a serious actor. His character was killed off after his 4th appearance on the show but his performance was memorable. This was also the beginning of Method Man's relationship as an actor with HBO.
Belly – Shameek
This film is an urban classic! If you haven't seen Belly I'm not sure what rock you've been living under for the last 20 years. In this movie which also starred fellow rappers DMX and Nas, Method Man plays flamboyant drug dealer "Shameek" (who also goes by the alias of Ike Love. His acting wasn't the best in the film. In fact, I'm not really convinced that he was taking being an actor serious yet. Nonetheless, his role in the film was memorable and a key plot driver.
The Wire – Melvin "Cheese" Wagstaff
This is one of HBO's most successful and critically acclaimed crime dramas ever. If we're talking about HBO crime series the only other show that we could undoubtedly say tops it is The Sopranos. Method Man appeared in 13 episodes of The Wire from 2003—2008. In the show, he played Melvin "Cheese" Wagstaff, a crew chief in his Uncle Proposition Joe's Eastside drug crew. Great series. We got to really see that Method Man could command a serious role in depth.
How High – Silas P. Silas
This is one of the funniest stoner films ever and it essentially made Method Man and Redman the modern day Cheech and Chong. It would be hard to find a true stoner that doesn't rank this movie in their top 10 stoner flicks. In February of 2017, it was revealed that sequel to the film entitled "Too High" is in the works. Once again they will bring Method Man back to the big screen in his role as Silas P. Silas. This should be hilarious.
Conclusion
With the music industry struggling to monetize due to illegal downloads and pennies on the dollar streaming sites like Spotify, it's no shocker that musicians are leveraging their star power in other roles and platforms. I really think Method Man has found his niche. At his current trajectory in 10 years, we probably won't remember that Method Man started off as a rapper, similar to Mark Wahlberg or Will Smith.