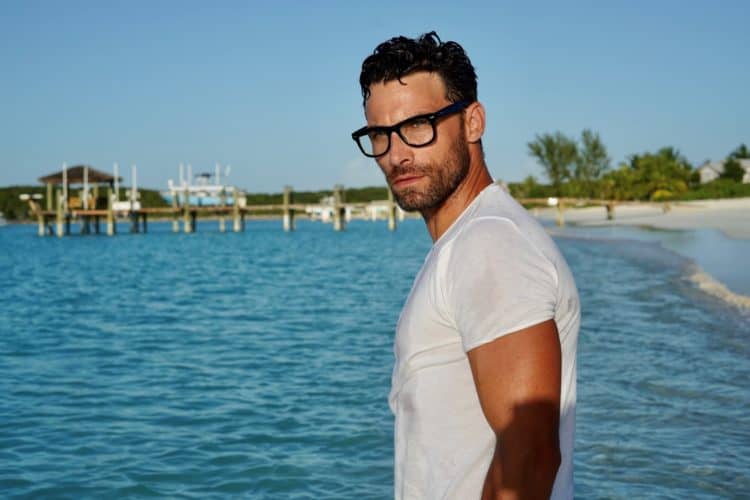 Erik Fellows is most known for his role as Troy Winston in the long-running NBC's day time soap opera "Days of our Lives." He's also known for his lead roles in movies such as 2019's "Being Rose," starring opposite iconic legends Cybill Shepard, James Brolin, and Pam Grier. He's played the lead character, Peter Franklin, in his multiple award-winning drama film, "Texas Heart," starring opposite Lin Shaye, John Savage, and actor Blake Clark. Erik proved he has the chops to pull off comedy when starring in the edgy, dark comedy "American Cowslip," alongside Oscar-nominated and award-winning star legends including Val Kilmer, Bruce Dern, Diane Ladd, Peter Falk, Rip Torn, Lin Shaye, and Blake Clark. He has been on film/television dramas on prime-time like CSI NY and NCIS Los Angeles.
Erik is currently a series regular playing the role of "Damian Blackwell" on Amazon Prime's 15 x Emmy award-winning series "The Bay The Series," which is now heading into production on their 6th season. Erik also stars in a new series titled "Purgatory," where he plays the villain/ex-con bad boy named Bobby, proving his range and diversity again as an actor. He has two very different films being released in late 2020 and early 2021. His 1st release includes the action/suspense thriller "Break Even," where he plays the role of Dash. His 2nd release will come shortly after, which is his highly anticipated dark comedy film "Start*cker," about the dark, cruel underbelly of Hollywood. Erik plays the lead character, Jimmy Starr.
Learn more about Erik Fellows below:
1. Erik was a talented basketball player and had the 23 Jumpman (Michael Jordan) logo tattoo on his left upper arm.
Erik was born in Silver Spring, Maryland, and grew up as an only child in an Italian/ Swedish / English household. He was a pretty active kid and loved athletics. At a young age of eight, he gained a huge passion for basketball and his idol Michael Jordan!
At the age of 15 entering the 10th grade, Erik decided to tattoo his idol Michael Jordan (the 23 Jumpman logo) on his left arm without getting permission from his parents. Erik went to some random tattoo artist who worked out of some creepy basement of a house. Erik was introduced to the artist by his friend's older brother, who happened to have gotten a tattoo from the guy a week before! Boy, oh boy, did he get an earful from his parents when he got home. Erik was just that big of a fan of MJ 23 and the dedication to the sport that it made sense to tattoo Mr. Jordan on his body at the time.
The love and passion he gave would eventually pay off and earn himself the position of starting point guard on his Varsity High School basketball team. There Erik played for the rest of his high school career until going into his senior year, a severe injury to his ankle put a hold on his basketball career. At the time, he was being scouted by an international pro-club team from Italy, and it was a very promising deal for Erik at the age of seventeen. But with the injury, Erik's career in basketball, unfortunately, came to an end, and he was unable to continue, but it only gave him that much more fire and want to find another passion, and he did, acting!!
2. His acting/modeling career wasn't exactly his original goal; he kind of fell into it.
Erik and his girlfriend at the time were babysitting a six-year boy for a friend. The boy's mother came to pick up her son when Erik was getting ready to head home. She stopped Erik when he was leaving and asked if he had ever thought about modeling and acting. Her young son was into acting and did a lot of kid/youth modeling for big companies. She asked Erik if he was interested in trying it out because she thought he had a great look and an outgoing personality. Erik let her know that he hated drama class in high school and only had an interest in basketball. He never thought modeling would be good, stating that his friends would have teased him. She enticed him by saying they wouldn't be teasing him if he was making a great living as a model and/or TV/movie star. Erik wasn't sure that was a possibility, but she introduced him to a modeling agency in Georgetown, DC, if he wanted to consider it a career back up plan.
Erik ended up going forward with signing a contract and began work as a local model. This path wasn't his first dream, but it helped pay the bills and make him some extra cash while he was trying to figure out his next life goals. As he became more interested in the field, he relocated to New York City and decided to pursue a full modeling and acting career. He was fascinated by the bustling city life and the grueling pace of NYC. Erik went full steam ahead and studied acting in between modeling, auditions, and casting calls. He was able to land jobs that allowed him to appear in print work and commercials for designers, companies, and brands such as Macy's, Noxzema, Nivea, GQ mag, Cosmo Magazine, American Crew, Levis, Lee Jeans, etc.
3. Erik didn't intend to move to Los Angeles and move that far away from home and family, especially being an only child and a mama's boy.
Erik realized he had to contemplate moving to Los Angeles to succeed in the entertainment industry. He went and visited Los Angeles in July of 2000 and wasn't in a rush to make a move; he wasn't sure if he even wanted to move at all, but then one of the most tragic events in history happened on 9/11 (September 11th, 2001) which put a dagger and darkness into NYC and our country. The sheer devastation and loss of lives and humanity really put a scare in Erik, who was only 20 years old and had only lived a city life for 11 months, which wasn't even enough time to get fully acclimated to it. But it also was such an eye-opening tragedy and lesson that we have a short time on this planet, and if you don't live it to the fullest, then you're robbing yourself of your own life.
Erik made a quick decision and moved back to Maryland for three weeks, where his eyes on Los Angeles were sharpened. He pledged to himself that since he wasn't able to fulfill his basketball career, which was his first dream, that he would give his new modeling/acting career every bit of the same, so he could use that energy toward his new passion. So on October 10th, 2001 is when Erik headed to Los Angeles.
4. Over his career, he has graced the small screen in many notable television projects, commercials, and music videos.
Before he knew it, he was landing huge commercial campaigns for some of the biggest companies such as Verizon Wireless, Chevy Malibu, Sprint, Miller Lite, Gillette, Chrysler, and a world campaign for Pom Wonderful. Along with his commercial success, he had also graced the screen in many music videos. He has played the love interest to notable stars such as Jennifer Lopez "Me Haces Falta," Katharine McPhee "Love Story," Lindsay Lohan "Rumors," and Dido "Sand in my Shoes," Buckcherry's video "Don't Go Away," playing the love interest to actress Arielle Kebbel, Papa Roach video "Scars," OAR "Love and Memories" and his latest was the American Authors music video for their song "Neighborhood." Erik was referred to as a male version of a music video vixen!
5. Erik was in the highly popular video game series NBA2k20
Erik plays a supporting lead character by the name of "Jonas Biel" in the video game series NBA2k20. Other stars appearing in the game are superstar actor Idris Alba, the stunning and talented actress Rosario Dawson, actor Thomas Middleditch, the comedic, and very talented Lamorne Morris (New Girl) and many other celebrity faces. Erik expressed that it was a surreal experience to be part of such a huge franchise, a dream come true for because of his first love and passion for basketball, and a fan of the NBA and the NBA2k franchise, growing up playing it himself!
Photo credit: Baker Photography