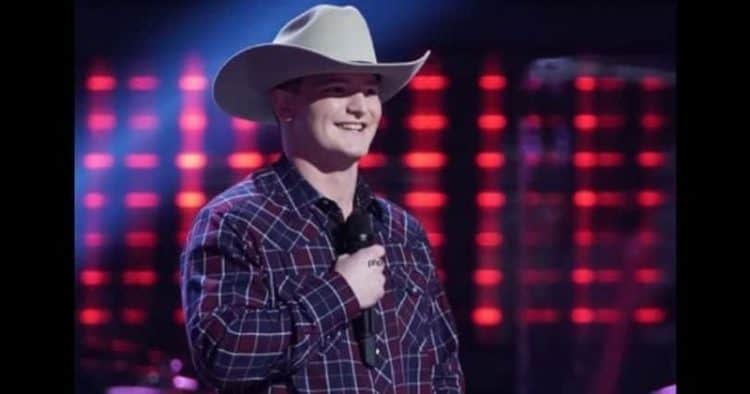 Ethan Lively certainly isn't your typical teenager. The 17-year-old singer has already discovered what he wants to do in life and he's taking some serious steps to get where he wants to be. As a contestant on season 20 of The Voice, Ethan's performance of "You Look so Good in Love" earned him a spot on Blake Shelton's team. Although Blake was the only judge who turned around,all four of them were shocked to find out that Ethan is so young. With the right training, it's clear that he has what it takes to go a long way. Plus, most would agree that Blake is the perfect coach for Ethan and they're both excited to see where this journey takes them. Continue reading to learn 10 things you didn't know about Ethan Lively from The Voice.
1. He's Been Singing Since He Was A Toddler
Even though Ethan is young, he isn't new to this whole singing thing. He has actually been singing for almost all of his life. He started singing when he was around 3-years-old and he's been going strong ever since. The deep voice you heard on The Voice didn't come along until he was about 14.
2. He Didn't Have The Easiest Upbringing
Ethan comes from very humble beginnings and he's ready to establish himself in a way that allows him to provide for himself and help his family. Prior to his performance Ethan said, "Growing up wasn't always easy. We lived paycheck to paycheck in a trailer. Not having a whole lot, I learned if you want something, you got to work hard for it."
3. He's Not Really Into Social Media
Most people Ethan's age spend almost all of their time on social media, but he doesn't appear to be one of those people. Although he does have an Instagram account, he doesn't have many posts and all of his content is focused on his music. Regardless of his social media activity though, there's no doubt that being on the show will help increase his following.
4. He Has A YouTube Channel
When you have a voice like Ethan's, it makes sense to want to share it with the world. He started a YouTube channel back in 2017 where he began uploading videos of his performances. Unfortunately, he hasn't posted any content since 2019 but hopefully he'll get back into it.
5. He's Thankful For All Of His Supporters
Since his blind audition on The Voice, Ethan has gotten attention from people all over the country. There are countless viewers at home who are excited to see where the competition takes him and feel like he has the ability to make it all the way. He is thankful for all the people who have shown him love so far and he plans to give him them even more great performances.
6. He Hasn't Released Any Music
Although Ethan has been singing and performing for many years, he hasn't gotten to the place in his career where he's started working on his own projects. As far as we can tell, he hasn't released any music of his own at the moment and there's no information on whether or not he has any plans to.
7. The Voice Is His First Time On TV
Performing on a show like The Voice can be an intimidating experience for anyone, but that's especially true for someone who has never done anything like that before. Despite this being Ethan's first time with such a high stakes performance, he managed to stay cool and calm while he was on stage.
8. His Faith Is Important To Him
Ethan hasn't said anything about his religious beliefs on The Voice, but his Instagram bio makes it clear that faith is something he likes to keep at the center of his life. Even though his religious is important to him, it doesn't appear that he is interested in making Christian music.
9. He Has A Very Supportive Family
There are a lot of parents out there who would be completely against their teenage child taking any time off school to audition for a TV talent show. Luckily for Ethan, that isn't the case with his parents. His family is very supportive of his dream of making it as a singer and they have had his back at every turn.
10. He Plays The Guitar
Thanks to his audition, everyone got to see what a great vocalist Ethan is, but what many people have yet to learn is that he can do more than just sing. Ethan is also a talented guitar player and he usually plays during his performances. Maybe we'll get a chance to see him do his thing on the guitar at some point in the season.