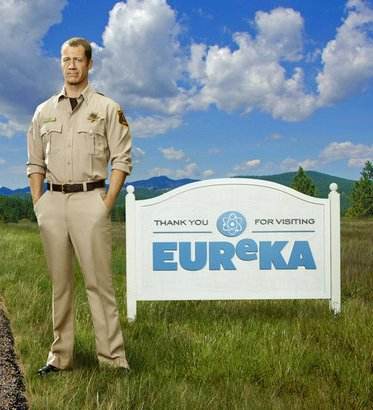 In support of Eureka's fifth and final season premiere airing tonight, Colin Ferguson and E.P. Jaime Paglia recently answered questions about the new season's first three episodes and reflected on saying goodbye to the series so cherished by fans.
The first episode of a three-part story picks up immediately where the last finale left off, yet it simultaneously manages to flip the script entirely. Beyond taking viewers where they likely didn't expect the premiere boldly delves deeper into the darker side of dread. Having moved onto his next starring role for Scrubs creator Bill Lawrence, Colin's pride in Eureka's finale season is effusive and well-earned. Before the first question was asked he proclaimed, "I just want to say right out of the gate, I'm so proud of the first three episodes. From a production, writing, and acting standpoint I'd put them up against anything. I'm so excited for this season to come out. It's the best thing that we've done." Paglia responded, "That's high praise indeed, I never make Colin happy. I really do think everybody's done their best work and have raised the bar once again."
Many of the questions pertained to how the series' development and fifth season compared to the pair's earliest expectations. Among the insights shared, Colin's encounter with the paranormal fascinated me most and undeniably offered he and co-star Salli Richardson-Whitfield a glimpse into their fates. He admitted, "When we first signed on there was a psychic convention where Salli and I were shooting. We had our futures read and the psychic actually said, "It's going to go for a while but it's not going to be what you think it is." And nothing could be more true. I mean, with the writer's strike in there and the recession, and doing 20 episodes and then getting split over a bunch of seasons – nobody saw that coming. But the amazing thing is to get to where we got to this year, I'm stunned with what it's become. I'm so proud. It's a really, really fun, darker and then funnier ride this year. The first three are as dark as we've ever gone."
"I think it's our best season yet," confirms Jaime Paglia, "Colin's gifts as both a dramatic actor and as a comedian, leading such an amazing cast, allowed us to write essentially anything and I'm sad that we won't get to continue. Our cast could take a scene and have you in tears one moment and then laughing through those tears in the next. We were unbelievably blessed with the group of people that we had to write for. But you don't have to worry about being stuck in the dark for the entire season. Trust me, you'll have a lot to laugh at."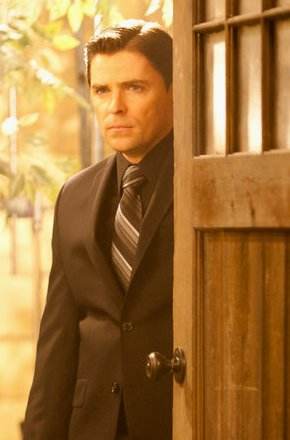 Moved by the exceptional work of Kavan Smith (a.k.a. Deputy Andy 2.0) and the Venturi Brothers' production design, I asked Jaime and Colin to comment on what they respectively brought to tonight's premiere? Colin was quick to praise his co-star. "Kavan's so good, it's amazing. Since coming on as Ty Olsson's replacement he's truly knocked it out of the park. His character really blossomed because he brought strengths Jaime would write to and then whatever Jaime wrote Kavan took to the next level." Jaime enthusiastically affirmed, "I absolutely fell in love with Kavan in the role. He's unbelievably talented. He wanted to make the character his own and we gave him the latitude to do that. Dramatically, he's brought me to tears more than once. We've put a lot on Kavan's shoulders and, like Colin said, he's consistently knocked it out of the park." Colin confessed, "I absolutely adore working with Kavan, and the levels he brought to the premiere are just really, really impressive. He constantly impressed me." "Yes, you glimpse the level of his ability in the premiere," Jaime assured.
As to the Venturis, this year they moved up from being Art Directors to assume the role of Production Designers. "The brothers are phenomenal," Jaime cheerfully proclaimed, "they've really stepped up and brought an unbelievable level of quality to the production design for this final season. The show has never looked better."
With all filming concluded and only some DVD commentaries left to record, two inevitable questions begged answering, firstly whether or not Eureka will live on in some form and secondly is how both men would like the series to be remembered. The last time I spoke with Colin there was talk of a spin-off in the works, Paglia had this to say on its prospects, "There have been discussions about potentially doing a spin-off to the franchise, and I'm open to that and the network is certainly open to that. But I'm not pursuing it right at the moment, mostly because I think everybody probably wants to feel some resolution with this series before we're off to the next one. I certainly would not say that it's definitively over and that we couldn't do a spin-off or actually shoot it as a movie using different sets – all our sets have been taken down – but there're no hard plans at the moment." Ferguson agreed and suggested, "I think we could take the team elsewhere. The team is called to Chicago, because there's a problem in Chicago. That'd be fun to get done as a movie. I'd love to do that, wait, what am I thinking? There's a horrible problem in the Bahamas – that's where the problem is."
And regarding how Eureka might be remembered, its creator shared, "I hope people remember and miss the town and continue wishing they could still be a part of it. That's the part of the show that always resonated the most for me. I grew up in a very small town in Oregon and those dynamics, the people and kinds of characters you meet there, are what I love to write and that's what I love to watch too. When people started talking about how they wanted to move to Eureka I knew I'd created something good. So, I hope that it's remembered fondly that way."
Colin stated unequivocally. "I want fans to remember it by the end of our journey, where we got to, the growth that we all went through, how our stories got tighter, our acting got better, our lighting improved. It's been a great journey but I'm so proud of the end of the road that I'd love them to look back and remember us for that. Carter started as a character who was a bad father, very closed off to people and very focused on work. And by this finale season he's really embraced not only his daughter and his family but a community of scientists and people and really life, in a sense. As many times as he's – maybe – saved Eureka, I think ultimately Eureka saved him. And that might be the most poignant salvation of all of it for me."
Colin and Paglia are scheduled to attend Phoenix Comic-Con (over Memorial Day weekend) together and then Dragon*Con (over Labor Day weekend) after that. "I'm hoping all you fans throw in your urging for us to get one last swan song at San Diego Comic-Con." Jaime Paglia concluded, "We'd love to go to SDCC this year to say goodbye."
Watch Eureka's fifth and final season premiere tonight @ 9/8c on Syfy.