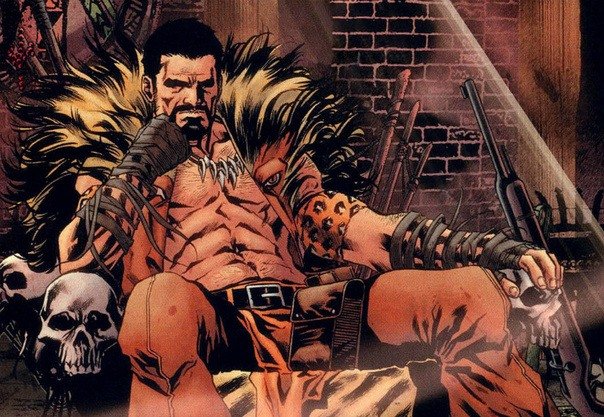 It seems exciting to think that we could be getting a Kraven the Hunter movie eventually but the downside is that it doesn't appear that he'll be linked to Spider-Man, which is kind of like saying you'll be having a plain peanut butter sandwich when you were so looking forward to a PB&J. To better explain, Sergei Kravinoff is one of the most terrifying villains that has ever stood in the path of the web-slinging hero and aside from being, more or less, a regular human that has taken measures to enhance his senses and stave off the aging process, Kraven is just downright psychopathic in his methods. His whole angle when it comes to Spider-Man is that he sees the webcrawler as the ultimate prey, and being the hunter that he is, Kraven has always wanted to prove that he has what it takes to bring Spider-Man down on his own. The only problem is that for a long, long time he seemed to misjudge just how powerful Spidey was, and therefore ended up losing or having to retreat more often than not. Kraven had his victories, though at the expense of the honor he seemed to prize so much, but throughout it all he's been one of the most vicious if not most powerful individuals that has ever gone after Spider-Man. It's just kind of a shame that his movie won't be featuring the web-slinger.
It could be interesting, but we'll have to wait and see.
Kraven has gone through a lot of different looks in his time.
As the comics have changed so too have the villains. With each new appearance Kraven has either taken on a new and more efficient look or has become something of a caricature of what he started out as. In the movie to come it seems as though he might go back to his hunter ways and become the cultivated savage that fans have known him as for so long. This form seems to be the most appealing, but his customary clothing might have to be modified just a bit to fit in with a more realistic fashion sense that will keep people from looking at him askance. Face it, the more professional a character looks and the better their design the more likely it is that people will pay attention and claim that it at least looks like something worth watching. Kraven might have to do away with the fur and the open-chest look just for the sake of appealing to moviegoers that want a little more substance and less fantasy. Yes that seems a little ironic, but practicality does have to win out occasionally.
Not involving Spider-Man will be the hardest part to accept.
Unfortunately Sony is still holding back on allowing Marvel to capitalize on their acquisition of Spider-Man by keeping some his best villains and other heroes firmly within their grasp. Kraven is one of those obviously, but there's also talks of Black Cat and Silver Sable having their own movies on the way. To fans that grew up with these individuals and have watched them mingle in the comics it seems a bit odd that Sony might hold out like this when they could probably name a pretty fair price and keep the characters together for an all-around epic movie. After all, Kraven did help found the dreaded Sinister Six with Doc Octopus, a group that could easily come to theaters to challenge Spider-Man in a classic epic that many fans would love. Hey, if they could do Infinity War then the possibilities for such a movie should be easy to conceive of. Keeping Kraven and Spider-Man apart isn't quite as dramatic as say keeping Superman and Lex Luthor apart, but it's something close to that. Sony seems ready to ride on the characters that sat in the periphery of Spider-Man's story though, and hopefully they'll find a way to make it work.
One might might think it would be possible for Sony and the MCU to create a sort of compromise that would allow some of the best character to come together in a way that would finally unite Marvel the way it needs to be but so much has happened to keep them apart that trying to sort it all out and make everyone happy seems like an effort that's not only futile, but ultimately doomed to fail for one reason or another. Kraven is going to have to stand or fall on his own, and it's going to be kind of nerve-wracking to see what happens to be honest. Fans can only wait and hope that things turn out okay and if they do, then Sony might have found a way to stay relevant within the realm of the heroes/villains department. After all, maybe Kraven and Venom can have a go since they're both owned by Sony, and Venom does kind of resemble Spider-Man, in a very psychotic way.