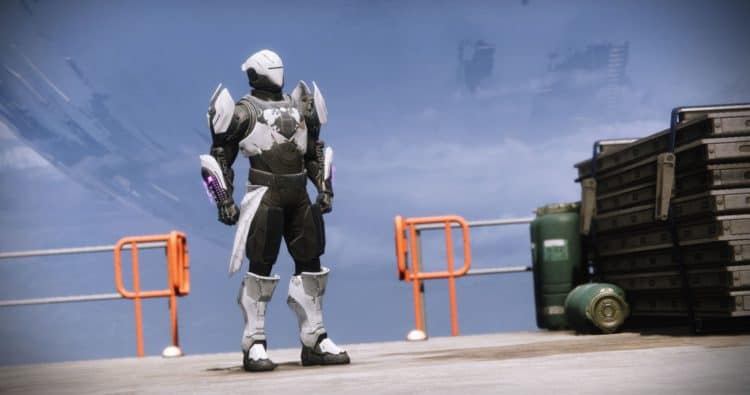 In Bungie's latest weekly blog post titled, "This Week at Bungie," we got a good look at how transmog, aka "Armor Synthesis," will work starting in Season 14 of Destiny 2. Unfortunately, it doesn't look like Armor Synthesis is going to work quite like we thought it would, and is actually a lot more complicated than many players feel it needs to be. Yet again, we've got another grind for not one, not two, but three separate currencies that we will then be able to use in order to unlock armor pieces and convert them into universal ornaments. There is a lot here to digest and discuss, so let's talk about everything that we know so far about Armor Synthesis in Destiny 2.
Armor Synthesis in Destiny 2
Okay, so here's how Armor Synthesis is supposedly going to work in Destiny 2:
Defeat enemies to earn Synthstrand
Spend Synthstrand on bounties to earn Synthcord
Convert Synthcord at the Loom in the Tower into Synthweave
Use Synthweave to convert an unlocked armor appearance (Legendary quality or lower) from Collections into a Universal Armor Ornament
So…not great. What I really don't understand is why Bungie felt it necessary to split this entire process up into three separate currencies. Why do we need to earn Synthstrand to then purchase a bounty to earn another currency to then finally unlock our armor ornaments? On top of that, Bungie is also limiting the amount of Synthweave to ten Synthweave per class, per Season. The only exception to this is in Season 14 (Season of [REDACTED]), where players will be able to earn up to 20 Synthweave per class, which can either be used to convert four full sets to ornaments, or 20 specific items. Not cool, Bungie. Not cool.
Armor Synthesis Bounties
So, what about the bounties you need to earn Synthcord? What kind of objectives can you expect to be required to complete in order to earn your seasonal Synthweave? Well, there's five total categories of Armor Synthesis bounties: Vanguard, Crucible, Gambit, Destinations, or Raids and Dungeons. A few examples of bounties that you will see in each of these categories include:
Vanguard
Complete playlist strikes using specific subclasses
Accumulate points in Nightfall strikes
Crucible
Capture zones in Crucible Control matches
Complete Crucible matches and defeat opponents using specific damage types as a team
Gambit
Send and defeat blockers in Gambit
Defeat Primeval Envoys, high value targets, and Primevals in Gambit
Destinations
Defeat Nightmares on any destination or in Nightmare Hunts
Defeat bosses while defending the Blind Well within the Dreaming City
Raids and Dungeons
Complete the final encounter of any Raid or Dungeon
Generate Orbs of Power in raids or dungeons
If you decide that you don't want to complete a certain objective, or if you accidentally pick up the wrong bounty, you can abandon said bounty and you will be refunded some Synthstrand, however it will not be the full amount, so you may just need to suck it up and complete the objective if you can't afford to miss out on that Synthweave.
Exception Inception
There will be a few exceptions at launch, specifically for Year-1 Armor Ornaments, due to technical constraints, including:
Vanguard
Crucible
Iron Banner
Faction Rallies
Prestige Raids
Trials of the Nine
While these ornaments won't be available at launch, Bungie is currently working hard on solutions for a future Season. However, there is an exception to this exception (kind of like an exception inception, if you will). "Ornaments can still be applied if the base armor piece is from an activity that the ornament originates. As an example, if a player owns Crucible ornaments from Curse of Osiris, they may be applied to Crucible armor pieces at no cost. However, these ornaments cannot be applied to Seasonal armor."
Solstice Gets Scorched Again
Since the release of 2018 and 2019 Solstice of Heroes armor sets, players have been begging Bungie to allow these armor sets to continue to be viable even past the next year, and while this still isn't really the case, at least we get to show off our favorite Solstice of Heroes armor sets with Armor Synthesis….mostly. Unfortunately, there is an issue where 2018 and 2019 glows cannot be socketed alongside armor appearances in the new Guardian Appearance system, so your favorite glows will not be supported. However, "Solstice 2020 armor glows were developed with the Guardian Appearance system in mind, and players will retain the white armor glow if it was earned during the event. Subclass based glows will continue to function on their Universal Ornaments as well."
Eververse Extraordinaire
Yet again, we've got another Eververse tie-in as Tess will offer Synthweave Templates for direct purchase through the Guardian Appearance screen. Players can choose to purchase either a Synthweave Template (1 Token) for 300 Silver, or a Synthweave Template Bundle (5 Tokens) for 1000 Silver. These templates can be applied to any class, so you don't have to worry about accidentally purchasing on the wrong class.
So Many Shaders
The entire shader system in Destiny 2 is also getting reworked alongside Armor Synthesis. Shaders will now be a one-time purchase for an increased cost of 300 Bright Dust (up from 40), and will not be removed from the player's inventory after applying a shader. You can apply shaders for 500 Glimmer per armor piece (same as current), but now there is an option to apply a single shader to all of your armor pieces for 2500 Glimmer, which is a much needed feature that I am very grateful for.
To "celebrate" Armor Synthesis, a Year-1 Eververse shader bundle will be available in the Eververse store for Glimmer, no Silver required! Honestly, I (along with many others) am not too thrilled with the direction that Armor Synthesis in Destiny 2 is going, and I really hope that Bungie rethinks the whole system, however, if they do I don't think it'll happen in time for the launch of Armor Synthesis as Season 14 begins in just short of 3 weeks, which is when Armor Synthesis launches. Even just condensing down to a single currency would be great, because 3 different currencies is completely unnecessary.