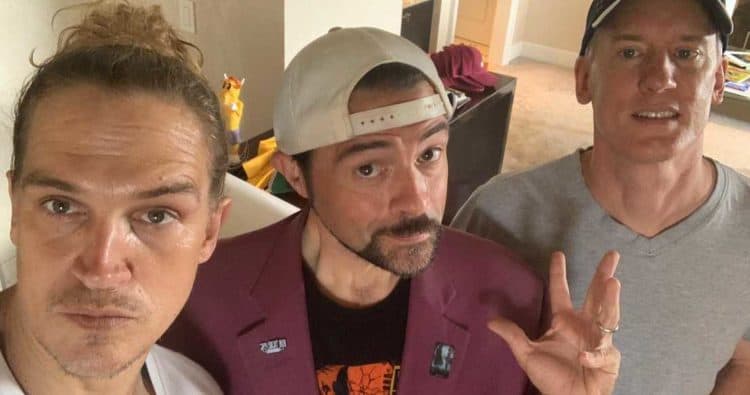 Sometimes lightning strikes and an idea is born that grabs people and doesn't let go, and then there are times when a bodily noise is heard and everyone looks around to see who did it. Somewhere in the middle of those two is Kevin Smith's long-lived cult classic Clerks, and after waiting for so long it would seem that we're finally getting a Clerks 3 after the second movie that was somewhat good but couldn't really be said to be as good as the first one. According to what Jeremy Dick of MovieWeb has revealed Smith had a plan to complete this script a while back, but things didn't really pan out the way he wanted. The animated series lasted for a while back in the early 2000s but even that ran its course and as you can imagine, people were wanting more and more as they perhaps felt that Smith had wound them up and owed it to them. Throughout the years though people have been waiting and Smith has been active, sometimes seeming as though he could start up Clerks 3 at any moment but at other times seeming as though he's simply trying to see the next sunset.
He did suffer a heart attack back in February of 2018, but as Scott Stump of Today reported it was the best thing that could have happened to him. That's a strange thing to say no doubt but it proved to be correct since Smith lost a great deal of weight after the attack, feeling that he needed to get his health under control if he was to keep doing what he wanted. Since then, as you can see above, he's reached a manageable weight and is as active as ever, working on one project after another as he continues to bring his expertise and sense of humor to the people that have been waiting for so long. So far what we know of Clerks 3 is that Jeff Anderson and Brian O'Halloran will be making their way back to the counter in order to tell yet another story as Randal and Dante. This time around however Randal, who has no one aside from Dante and is a rather cynical individual that tends to push people away rather than make sure that he'll be remembered, suffers a heart attack while working and realizes that if he were to die from a heart attack, as he nearly does, very few people would even miss him. This is an eye-opener no doubt for Randal as he realizes that he's been watching his life roll by without doing anything to really immortalize it. But instead of leading what some might call a better and more fulfilling life, Randal suggests to Dante that they need to make a movie, and therein lies the story of Clerks 3.
It seems a little anticlimactic in a way, but at the same time if you were looking for some epic twist in a Kevin Smith movie then you haven't been paying attention for the many years he's been at this. He has his own little twists and turns in his movies so it's fair to say that there might be little jogs and bends in the script that we won't be made privy to until later, but as of now that seems to be the gist of it. In truth though if anyone thought that Randal and Dante were about to go deep and experience a true male bonding experience that would turn this into an artsy film then once again, you really haven't been paying attention. Anyone that's going to sit and debate, in a professional tone and mindset, just how the dynamics of this movie and those before it are meant to represent the plight of the everyday worker in America is worth laughing at when it comes to thinking that there's any underlying meaning to this story. Kevin Smith lays it out there pretty well, almost like a visual buffet for the senses, just as he's always done, and with all respect to his style and skill behind the camera, this is about as much of a dude movie as has ever existed. Randal and Dante aren't deep, and in many ways they aren't meant to be. They're the average individuals that you see at the convenience store when you go in for an item you need or want, nothing more and nothing less.
The story line is, as Brian Welk of The Wrap has stated, taken from Smith's own experience back in 2018, and while the outcome is likely to be different since Smith has a lot more people that would lament his passing, you can imagine that it might make for a good story idea. At this point it's easy to think that a lot of people who enjoyed the first movie are looking forward to this.