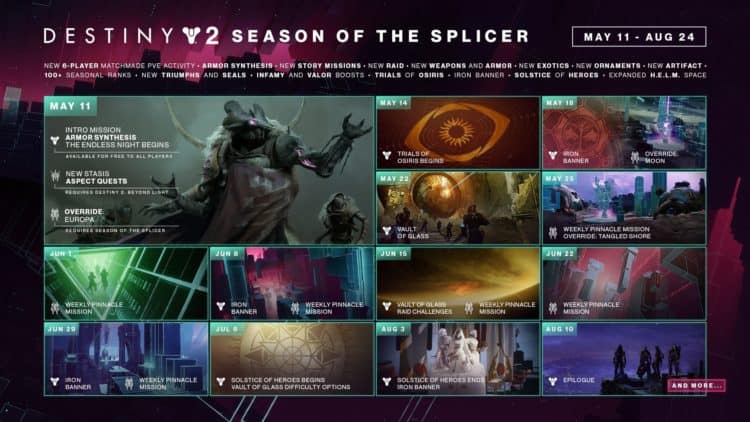 With less than a week left of Season of the Chosen, Bungie has finally begun to tease the next Destiny 2 Season and we now know that it is, in fact, called "Season of the Splicer." This Season focuses on the Vex and Mithrax, who claims to be among the last of the Sacred Splicers, those with the power to commune with machines. It's been a minute since we've seen Mithrax in any significant capacity since his last appearance in the Zero Hour mission for Outbreak Perfected. It looks like we'll be on a mission to find Mithrax before the Vex find him, though it isn't quite clear why the Vex are even searching for him yet. So what did we find out about Destiny 2: Season of the Splicer?
Story
The Vex have plunged the Last City into an endless night, threatening the safety once found beneath the watchful presence of the Traveler. It is here, bathed in perpetual moonlight, that Ikora reveals the identity of an unlikely ally that may hold the keys to triumphing over this attack. Mithrax, Kell of the House of Light, leads a small group of Eliksni who wish to be closer to the Traveler. As a Sacred Splicer, he possesses the knowledge needed to combat the Vex technology that ensnares the Last City. I think that this whole "endless night" story going on with Season of the Splicer has the potential to be super cool, I think that it's different than anything that Bungie has done with Destiny before, and I'm looking forward to seeing what comes of it throughout the Season.
Override
Override is a brand new 6-player matchmade activity coming to Destiny 2 in Season of the Splicer. "Fireteams of six will use Splicer tech to hack the Vex Network. Uncover their secrets, steal their code, and use their power against them." That's about all we know about the Override activity, but we've got less than a week until it launches, so I'm sure we'll learn more soon.
Expunge
It seems like weekly Pinnacle missions are going to be the new norm for Destiny 2 and I have absolutely no issues with this. For the new Expunge weekly Pinnacle mission, Bungie states: "Each week, Guardians will uncover new vulnerabilities within the Vex Network and use Splicer Keys to infiltrate and collapse it from within." Again, we don't really know much about what this entails, so we're just going to have to wait until it launches next week.
Vault of Glass
We've covered the return of the Vault of Glass pretty extensively now, but here's what Bungie's seasonal information post has to say about it: "The time lost Raid returns. Stored away, deep in the Vault of Glass on Venus is Atheon, Time's Conflux. No one knows what this Vex is. Guardians must access the Vault, navigate the fractures in space and time, and terminate Atheon before it can become an unstoppable threat." One new thing that we did learn, however, is that the return of the Vault of Glass Raid will be free for all players regardless of whether you purchase the Season or not.
Bungie Rewards
As far as Bungie Rewards go for the Vault of Glass Raid, we have a brand new Raid jacket and Raid ring which both look incredible, and I will be purchasing both of these as soon as I am physically able to do so. We also have a new "Fatebreaker Seal" that looks pretty sweet as well. I'm sure that there will be plenty of Triumphs that will be required to earn the new Fatebreaker Seal, and will more than likely involve completing all of the Raid challenges for Vault of Glass.
Armor Synthesis
We already know that Armor Synthesis will be making its way into Destiny 2 with Season of the Splicer, so check out everything we know about Armor Synthesis here!
New Gear
We will be getting over 30 new and reprised Legendary weapons in order to crash the Vex Network, as well as some new Exotics!
Star-Eater Scales (Hunter Legs): Allows Hunters to feast upon Orbs of Power, charging their Super more quickly and making it more potent.
The Path of Burning Steps (Titan Legs): Titan armor that converts Solar eliminations into increased weapon damage and makes them more difficult to lock down with Stasis.
Boots of the Assembler (Warlock Legs): Condenses a Warlock rifts' healing or empowering energy into projectiles that seek out their allies and bless them with noble benefits.
Definitely loving these new Exotics, especially the ability to essentially throw your Warlock rift at your fireteam members. Hopefully these legs will also increase the benefits from healing or empowering rifts!
Season Pass
Up next, we've got a look at the Season Pass for Season of the Splicer in Destiny 2, which includes a brand new Exotic Stasis Sidearm called "Cryosthesia 77k" and Season of the Splicer Universal Ornaments which look out of this world!
Roadmap
Finally, we've got the Season of the Splicer roadmap that details what we can expect throughout Season of the Splicer in Destiny 2:
May 11

Intro Mission (Available for free to all players)
Armor Synthesis (Available for free to all players)
The Endless Night begins (Available for free to all players)
New Stasis Aspect Quests (Requires Destiny 2: Beyond Light)
Override: Europa (Requires Season of the Splicer)

May 14
May 18

Iron Banner
Override: Moon

May 22
May 25

Weekly Pinnacle Mission
Override: Tangled Shore

June 1
June 8

Iron Banner
Weekly Pinnacle Mission

June 15

Vault of Glass Raid Challenges
Weekly Pinnacle Mission

June 22
June 29

Iron Banner
Weekly Pinnacle Mission

July 6

Solstice of Heroes begins
Vault of Glass Difficulty Options

August 3

Solstice of Heroes ends
Iron Banner

August 10
There's a ton of super awesome things coming to Destiny 2 with Season of the Splicer, and I know that I'm looking forward to it all. It's always a good time in Destiny 2 when Bungie adds a new 6-player matchmade activity, and we haven't really had one since Season of the Undying. Overall, I'm hyped for Season of the Splicer, and probably more so than any other Season.