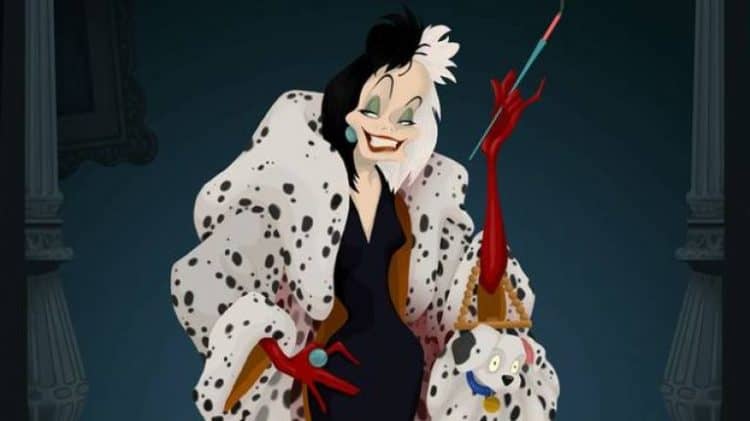 There isn't much to tell about the new Cruella movie that Disney plans on rolling out in the coming year, but so far Devan Coggan from Entertainment Weekly seems to have a handle on the idea that Emma Thompson will be joining the cast along with Emma Stone. What her role will be is unknown as of yet since details are still forthcoming. It's already pretty obvious that Thompson would be a worthy addition to the film since she's already played in a live action version of Beauty and the Beast and has played the author of Mary Poppins in Saving Mr. Banks. So obviously it's been established that Emma Thompson has a pretty good working relationship with Disney and would be a great fit. As to the part she's playing though one might want to take a guess that she might have something to do with how Cruella came to be who she is. It's a guess, nothing more, but one that seems to fit the idea at this time.
If anyone remembers this isn't the first time that Cruella's life was put on display for others to see beyond the 101 Dalmations angle. She was a part of the Once Upon A Time cast as well if people can recall and was given quite the back story that might not be remembered by many since it wasn't considered to be part of her original canon. But needless to say, the character has been presented to the fans in a few different ways since her arrival to the Disney scene. Among the worst of the worst she's perhaps one of the most psychotic of the bunch, but when you're speaking of Disney villains that seems to be par for the course really, a prerequisite that a lot of them possess without fail. Without powers and without special abilities or even the kind of physical attributes that some have though she seems like a rather tame villain, at least until you begin to see just how far she'll go to get what she wants.
Kevin Burwick of MovieWeb puts and interesting note on this by stating that the movie will be set in the late 1970s in London, England and will be just after the punk craze exploded. Since a lot of people know just how fashion-conscious Cruella is this is going to put a different spin on the story it would seem and create a much more rounded and layered character than we've managed to see in the past. Origin stories for heroes are a definite must, but origin stories for villains are becoming a trend that is actually kind of interesting since it paints a very different picture of the heroes and gives a more realistic lean to the old tales that we've enjoyed for so long. After all, who in the world would have thought that Maleficent would be seen as anything but the evil figure that she was cast as so long ago? The movie starring Angelina Jolie gave rise to the thought that we might want to look a little closer at our heroes and begin to realize that they're not quite as perfect as the tales would suggest. In the case of Cruella however it still seems kind of difficult to see her as anything but a maddened, wild-eyed devil that wants to butcher a litter of puppies just to make a coat, but then again there must have been something that happened in her life that created this monstrous side of her, right?
There are those that would say that it doesn't matter, that she was created to be a villain and that's that.  But then there are those that want to go deeper into the matter and find out just why she is the way she is, to psychoanalyze her through the telling of her tale in a way. So far it's working, people are in and they want to see what could have possibly been done to make a young woman turn into a maniacal and hateful older lady that would gladly kill a puppy for its pelt. There hasn't been much news of the movie at this point and very little seems to have been locked down according to many sources, but at this point it feels safe to say that it's going to progress as desired and the casting will no doubt be top notch as the other live action movies have been so far. Making this into a prequel to 101 Dalmations is an obvious step since by the time that movie rolled around Cruella was already too far gone it would seem and the madness she embraced was absolute.
It might be interesting to see what happened to turn a supposedly innocent young woman into a deranged psychopath.