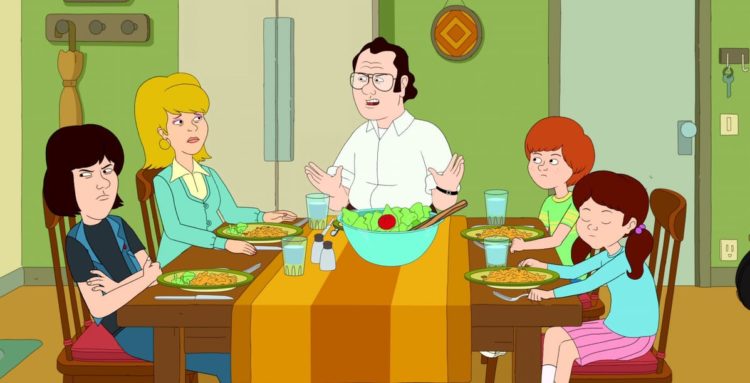 At the moment it's seems like 2020 is going to be a busy year for TV and movies like since a larger number of titles are coming and a lot of shows such as F is for Family are getting renewed for another season. The popular Netflix show is reported to be making an appearance in early 2020 according to Q.V. Hough from Screenrant and will continue the hilarity of the show in the same vein it sounds like in an effort showcase how the Murphy family continues to live their 70s lifestyle amid their many different concerns and problems. Of course the upcoming season is bound to get even more interesting since the arrival of Frank's father is bound to shake things up in a way that people aren't fully expecting but will no doubt be willing to take a look at since it will upset the whole family dynamic in the way that only relatives can do.
Joseph Baxter from Den of Geek! is right on the money when he describes Frank Murphy as a cross between Archie Bunker and Al Bundy since in all fairness the guy is kind of crass and says what he wants without a filter. Obviously the show is more adult-oriented and is meant to be since creator Bill Burr isn't exactly the kind of guy you'd expect to hold his comments about, well, anything. If you've watched any of his comedy bits then you know that Burr isn't the kind of guy that just lays back and lets things go without a comment, and he's brought that to the character of Frank Murphy who's a veteran and is bound to say something that people don't like or agree with at one point. There's a good reason why this show is adult-oriented since the characters and the plot tend to make it something that you don't want your kids watching unless you don't mind that they'll be hearing and watching subject matter that isn't quite suited for younger minds. But that's a big part of what makes the show so great.
As Kasey Moore from What's On Netflix writes this show was given the green light for another season back in January after discussion had led people to wondering if it would be making a return after the third season. You can't really blame people for being curious since so many series just up and go away these days without that much explanation. Netflix however has had a decent track record so far in telling people what's up and what might be happening sooner or later with some of the programs that they've featured on their site so far. As one of the streaming giants and still one of the most popular Netflix has managed to keep a lot of talent under its roof and has created several shows, including F is for Family, that have been gaining fans and growing in influence throughout the years.
In the era of animated shows it's becoming increasingly tough to really find a niche and carve it out to the liking of the fans. Animated shows are still popular and will continue to be since shows like The Simpsons made that possible many years ago, but keeping it fresh and easy to relate to is something that stands as an open challenge to any show that makes its way into the public eye. Thankfully F is for Family hit the ground running and with Bill Burr at the helm it's not much of a surprise that it's done so well on Netflix and continues to be one of the shows that people want to see more of. It's another testament to the show's popularity to be honest since there's so much to watch on Netflix that some people literally spend days trying to figure out just what they want to watch and end up putting a large number of shows on their list to watch later. But the fact that this has captured the attention of so many people is something that speaks well of the program and the way it's been delivered.
It almost seems fair to say that people are actually trying to hearken back to a time when the Archie Bunkers and Al Bundy characters of the world were more prevalent and more acceptable when it came to TV. Sure they weren't any more perfect than Frank Murphy is, and they were crass and crude in many, many ways. But there was a level of comedy to them that bypassed the PC nature of so many shows that are on the air today and went straight to the meat of any matter that came across the program. There was a definite feel to such shows that indicated it was okay to be offensive at times even if it wasn't always appreciated. Season 4 seems ready to deliver this same feeling.