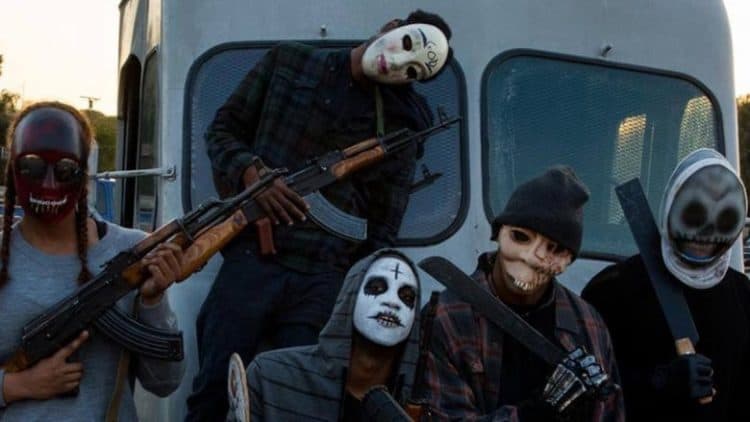 If you've ever been afraid of just how far our government might go to finally combat the crime rate in the country then The Purge was undoubtedly an answer to such queries. It wasn't a perfect answer or one that people would stand for obviously, but it was definitely a theory. Now with The Purge 5 coming to theaters in the summer of 2020 as told by Sandy Schaefer of ScreenRant it seems as though the franchise might be coming to an end. So far the people have had to put up with the home invasions, the murders, and the overall chaos that the Purge has brought to the US for the 12 hours it's allowed. But the one thing that the creators of the movies have likely touched on but never really delved into is that murder might be legal for those 12 hours, but revenge is something that festers and sinks deep into your bones until it finally becomes a poison that has to be released through violence lest it destroy the person it's infested. Yes, I'm waxing a little bit but it's as true now as it was when the first Purge movie came out and it's definitely a thought that's been on the mind of many a fan.
Anthony D'Alessandro of Deadline and many others don't have a clue as to what the plot is going to be like for this upcoming movie, but there are already a lot of guesses that people are starting to use in their attempt to figure out just what might be coming. So far the Purge movies have been nothing short of messed-up since quite honestly half a day to do whatever you want and not get penalized for it, at least not by the law, is a temptation that many people in this country would likely take great advantage of since it would mean giving in to their more base desires finally and finding that when the 12 hours were up that they were as free to go about their way as they pleased.
As of right now it would seem that those under the threat of the Purge are going to do what they can to end the current status quo and make sure that the Purge is never used again as a deterrent for crime, but the story could go in a different way as well. You have to assume that those who are truly being hurt by the Purge, those that can't afford to sit in their mansions and well-guarded fortresses with constant surveillance, will have grown tired of watching their backs for those 12 hours of mayhem. Were a thing like this to ever happen in real life, especially in the current political landscape, it seems that utter chaos would unfold and the country would nearly split itself in two in less than that half day, and the coming morning would behold a place torn apart by what was done in anger and can't be taken back.
Sonaiya Kelley of the Los Angeles Times has made it pretty clear that the first movie wasn't supposed to be the media darling that some might have thought. In fact none of them were supposed to be as popular as they turned out to be since the creators were banking on people liking them but not to this degree. People have taken to the Purge movies in a way that kind of defied expectations and pushed the whole idea to a level that wasn't thought to be possible. The whole idea of anyone being able to be murdered, save for politicians of course, is an idea that seems to mirror the world we live in and shows us the hypocrisy that we live with on a continual basis. The thought of leaving politicians alone when they're the ones that implement a lot of the policies that affect the rest of us seems to stick with some folks and causes a bad taste in their mouths, which is easy to understand. After all, if the people we elect to change and guard policy are representatives OF the people, why shouldn't they share the same fate as the people?
The Purge 5 is likely going to be every bit as bloody and just as chaotic as any of the others and will likely bring a close to an idea that was presented as one of the scariest and yet somehow most sensible that a movie could ever present. To some people this idea actually made sense, while to others it seems like it would be a walking death sentence to half of the country simply because people tend to take things to the extreme as much as is legally possible these days and don't think twice about doing it. Would folks actually consent to murder if it was legal for 12 hours? That's kind of a disturbing question.