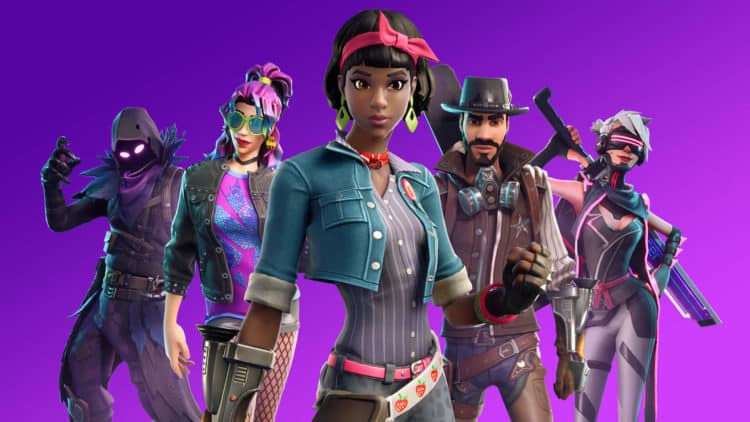 While the battle royale portion of the game is significantly more popular, Fortnite's "Save The World" mode is still enjoyed by many players and continuously receives updates from Epic Games. Save The World was Epic's initial vision for the game, but the explosion in popularity of Battle Royale meant that Save The World unfortunately fell by the wayside. Still, we've got a massive update with Fortnite Save The World v5.40 releasing alongside Fortnite Battle Royale v5.40, which includes a whole bunch of fun and exciting additions to the game mode. Thankfully, Epic Games has been kind enough to finally provide some patch notes for the game, something that we rarely ever see nowadays. So, what do you need to know about Fortnite Save The World v5.40?
Missions & Systems
Horde Weekly Challenge 5 is now available:

This week, deploy your Fort against hordes of buff Husks! These enemies are hard to defeat, and bat players away with strong knockbacks!
Win 1500 Gold for the first-time completion.
This challenge is also repeatable for Event Tickets.

New Mega Alerts now show up on all group missions.

A Mega Alert combines Elemental Storms with Mutant Storm modifiers, and has a Miniboss too!
They may grant XP, evolution materials, perk materials, schematics or survivors.
The amounts granted are considerably higher than normal Mission Alerts
These rewards can be earned 3 times every 24 hours.

Ride The Lightning and Launch The Rocket now use direction-based spawning.

The direction the enemies approach from will change at each stage.

Compensation for missing mission rewards

Due to recent problems with missions failing to grant rewards upon completion we are doing a round of compensation for all players.
Players will receive hero/schematic/survivor XP, evolution materials, perk materials, and gold, with amounts scaled based on their account progression.
Additional resource grants will be rolled out to affected players shortly after update 5.40, scaled based on the number of missions, and
difficulty of the missions, completed that failed to grant rewards.
Players will also receive a complimentary Smorgasbord Llama, which can be opened from the Loot tab.

Increased Gold rewarded by Main Canny Valley Act 1 Quests from 100 to 150.
Many Canny Valley and Twine Peaks Quests that used to award rare Survivors, Schematics, Heroes, etc. have now been updated to instead award Gold, Perk Materials, and Evolution Materials.

Players will receive these new rewards automatically if they have already completed these quests prior to this update.

The difficulty of normal missions in Plankerton, Canny, and Twine have been reduced.

The number of enemies spawned will be lower, and the encounters will be less likely to spawn more difficult types of enemies.
This affects these missions when set to 1, 2, or 3 player difficulty (via BluGlo)
Pacing for these missions has been adjusted to allow for more peaks and valleys during the encounter.

Storm Shield Defense spawn difficulty also reduced, in Plankerton, Canny, and Twine.
Bug Fixes
Fixed several issues related to missions failing to grant rewards
Underground Bunkers now appear on the player's minimap when searching for them for the Canny Underground quest.
The initial encounter in Evacuate the Shelter missions will no longer be endless in cases where a player reached the shelter before Ray's dialog was complete.
Performance
Applied a variety of optimizations to reduce a large hitch when another player joins a game in progress.
Made improvements to the Particle System and Sound performance when playing in a Death Burst modifier zone.
Optimized performance of the Shielder and Super Shielder, particularly related to collision processing and movement updates.
Made improvements to instant hit weapons performance, especially when they do impact damage and have a high rate of fire.
Added multiple optimizations for how missions track eliminating Husks to reduce performance impact when enemies take damage.
Smoothed server application of death effects over several frames to reduce hitches around a variety of area effects.
Optimized network traffic when Husks die around a Storm Chest, to avoid hitching.
Reworked how terrain and object draw distances are managed to improve framerate at each graphics setting without impacting scene quality.
Improved UI performance by removing obsolete checks and optimizing data lookups.
Updated Quest Screen to refresh its data only when visible.
Reduced performance cost of an expensive per-frame check on Xbox One.
Cleaned up logging spam to improve client performance.
Fixed a large performance regression related to effects since the 5.30 release.
Using many Hover Turrets no longer causes the enemies they are shooting to freeze/stutter.
Fixed issue which sometimes prevented Patrol destination rifts from going away. Too many rifts could eventually cause perf issues or possibly a crash in rare cases.
Removed hitch when equipping a weapon with visual elemental effect.
Fixed a hitch when viewing the map.
Reduced hitch when upgrading Survivors on accounts with many items.
Fixed hitches around processing inventory updates, especially for players with many Schematics.
Fixed some hitches related to loading assets when browsing schematics.
Fixed some hitches related to processing stats when generating tooltips for trap schematics.
Fixed periodic hitches near the end of timed missions like Rescue the Survivors.
Fixed a hitch when crafting ammo.
Heroes
Harvester Fiona available in the Event Store.

A new look for the Husk Harvester Ninja
Bug Fixes
Fixed an issue where Phased and Confused read "Charge" rather than "Charges".
Kunai barrage tooltip now displays in-zone when the player has Kunai Collection.
Fixed an issue with Up The Voltage tooltip, value now correctly reads as a 33% damage increase.
Fixed issue with where Energized was not applying to Shock Tower.
Fixed issue with Static Cling where the damage type was dealing physical damage rather than energy damage.
Fixed issue with Static Cling where the effect was lasting longer than intended.
Weapons & Items
Increased the durability of the Grenade Launcher, Blooper, and Thumper by 65%.
Bug Fixes
Fixed the Snowball Launcher and Easter Egg Launcher consuming more durability than intended.
Bundlebuss now correctly takes up backpack space.
When using the Bundlebuss, Mercury LMG or Dragon's Fist the Hitstreak Explosion perk properly damages enemies when triggered.
Increased its damage to 70%, up from 30%.
Fixed an issue where Leap Attack wasn't properly canceling hoverboard.
Gameplay
Bug Fixes
Fixed issue that prevented some players from progressing past the tutorial cinematic.
Dropped items will no longer auto-pickup for the player who dropped them until 10 seconds have elapsed. They can still be picked up manually before 10 seconds have passed.
Shielders and Super Shielders no longer drop loot when they reach the end of a patrol and spawn out without being eliminated.
Fixed an issue that caused rockets to not do full damage to Super Shielder shields and the environment.
UI
Added ability to slot higher starred version of Schematics in the Collection Book.
Bug Fixes
Fixed a rare crash in the zone map menu.
Sold out items in the store will no longer show the sale banner.
Fixed quest page refreshing when navigating to current quest.
Fixed an issue where using the "Play Now" button while in the Quest Tab could cause a delay in the mission loading.
Fixed a rare video playback crash on Xbox One.
The Event Store item quantity now properly updates.
Fixed issue that was removing the button for increasing quantity of items to purchase in the Event Store.
Weapons in your backpack will now properly update ammo counts.
Art & Animation
Increased RAY's dialog volume.
Bug Fixes
Fixed issue with music in Ride the Lightning missions where looking away from the van lowered the battle music.
Fixed issue for timer and success sound cues playing during the Defeat sequence.
Fixed issue with game sounds playing over Victory sequence.
Fixed issue with the shelter module sound spamming.
Fixed issue with Smasher sounds not triggering consistently.
Fixed music issue during Homebase Outpost intro cinematic not playing the correct music.
Fixed several UI sound issues.
Fixed volume issues with the Atlas sounds.
Fixed issue with Anti-Material Charge impact volume.
Fixed several issues with music such as music retriggering during Smasher intro, multiple tracks playing in the Lobby and music not playing in the Main Menus.