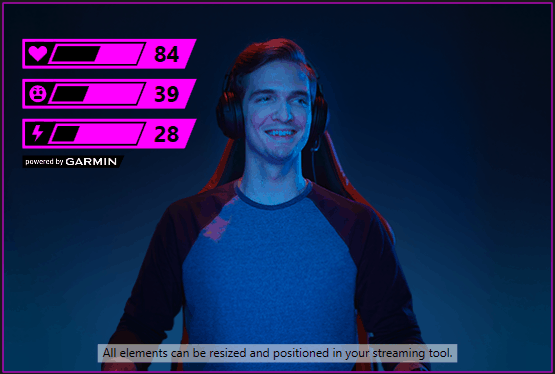 What do you need to know about the Garmin Instinct Esports Edition? Garmin has been a major player in the active-watch industry for over 30 years after its founders Gary Burrell and Min Kao founded the company in 1989. Now, Garmin has entered the world of gaming with their signature Garmin Instinct Esports Edition smartwatch, that promises plenty for every gamer, and especially streamers with the ability to display your heart rate wirelessly on your stream and allow your viewers to see how you're feeling in whichever situation you may find yourself. This is something that I would have never thought we would see, but I've gotta say, this has a ton of potential for growing streamers to provide some sort of unique entertainment factor that helps them stand out from the rest, without having to give up your life savings to afford a heart rate tracker. Garmin was kind enough to send us over a free unit to tell you everything you need to know about the Garmin Instinct Esports Edition!
Features
First of all, we're going to have to talk features and specs of the Garmin Instinct Esports Edition – after all it is a smartwatch.
General
Lens Material: Chemically strengthened glass
Bezel Material: Fiber-reinforced polymer
Case Material: Fiber-reinforced polymer
Quickfit Watch Band Compatible: Yes (22mm)
Display Resolution: 128×128 pixels
Display Type: Monochrome, sunlight-visible, transflective memory-in-pixel (MIP)
Weight: 52 grams
Water Rating: 10 ATM
Battery Life
The Garmin Instinct Esports Edition claims to have a solid battery life across all 4 of its modes:
Smartwatch Mode: Up to 14 days
Esports Mode: Up to 80 hours
GPS Mode: Up to 16 hours
UltraTrac Mode: Up to 40 hours
Clock
You've got quite a few options when it comes to clock features on the Instinct Esports Edition, including:
Time/Date
GPS Time Sync
Automatic Daylight Saving Time
Alarm Clock
Timer
Stopwatch
Sunrise/Sunset Times
Health Monitoring
Wrist-Based Heart Rate (Constant, Every Second)
Daily Resting Heart Rate
Abnormal Heart Rate Alerts (high and low)
Body Battery Energy Monitor
All-Day Stress
Relaxation Breathing Timer
Sleep
Sensors
GPS
Glonass
Galileo
Garmin Elevate Wrist Heart Rate Monitor
Barometric Altimeter
Compass
Accelerometer
Thermometer
Daily Smart Features
Bluetooth and ANT+ Connectivity
Smart Notifications
Text Response/Reject Phone Call with Text (Android only)
Calendar
Weather
Controls Smartphone Music
Find my Phone
Find my Watch
Virb Remote
Pairs with Garmin Connect Mobile
Safety and Tracking Features
Tactical Features
Esports
Esports Activity
Str3amup! PC Tool for Streaming Biometrics
Activity Tracking
Step Counter
Move Bar
Auto Goal
Calories Burned
Floors Climbed
Distance Traveled
Intensity Minutes
Trueup
Move IQ
Gym & Fitness Equipment
Cardio Workouts
Strength Workouts
Automatic Rep Counting
Training, Planning and Analysis
HR Zones
HR Alerts
HR Calories
% HR Max
% HRR
Auto Max HR
HR Broadcast (using ANT+ or BLE)
GPS Speed and Distance
Customizable Data Pages
Customizable Activity Profiles
Auto Pause
Interval Training
Advanced Workouts
Downloadable Training Plans
Auto Lap
Manual Lap
Configurable Lap Alerts
Custom Alerts
Audio Prompts
Finish Time
Virtual Partner
Race an Activity
Course Guidance
Touch and/or Button Lock
Hot Keys
Auto Scroll
Activity History on Watch
Physio Trueup
Running
GPS-Based Distance, Time and Pace
Cadence
Run Workouts
Foot Pod Capable
Outdoor Recreation
Point-to-Point Navigation
Bread Crumb Trail in Real Time
Back to Start
Tracback
UltraTrac Mode
Elevation Profile
Distance to Destination
Barometric Trend Indicator with Storm Alert
Trail Run Auto Climb
Vertical Speed
Total Ascent/Descent
Future Elevation Plot
Compatible with Basecamp
GPS Coordinates
Sight 'N Go
Area Calculation
Projected Waypoint
Sun and Moon Information
Xero Locations
Cycling
Alerts
Courses
Available Cycling Profiles (Biking, Indoor Biking, Mountain Biking)
Race an Activity
Speed and Cadence Sensor Support
Swimming
Available Swim Profiles (Pool Swimming, Open Water Swimming)
Open-Water Swim Metrics (Distance, Pace, Stroke Count/Rate, Stroke Distance, Swim Efficiency, Calories)
Pool Swim Metrics (Lengths, Distance, Pace, Stroke Count, Swim Efficiency, Calories)
Stroke Type Detection (Pool Swim Only)
Drill Logging (Pool Swim Only)
Basic Rest Timer (Pool Swim Only)
"Repeat On" Rest Timer (Pool Swim Only)
Pool Swim Workouts
As you can see, there are a lot of features that are included with the Garmin Instinct Esports Edition, and honestly, you probably won't end up using most of them, unless you are determined to get the most out of your watch (in that case, more power to you!) Now let's talk about how the streaming application works.
Str3amup! Software
In order to actually use the Str3amup! software, there are some basic requirements for your system (Note: these are the Windows requirements):
PC
Windows 10 version 1809 or newer
Microsoft .NET 4.6.1 (included)
Screen resolution of at least 1920 x 1080, 1 GB RAM
At least 100 MB free disk space
Bluetooth Low Energy support
Streaming/Recording Setup
Requires pre-existing video game streaming/recording setup using a supported streaming/recording tool

Tools must support capturing desktop window content and "Chroma Key" Filters

Examples: OBS Studio, Streamlabs OBS, XSplit

Requires pre-existing set up account for a video streaming platform by the supported streaming tool (for streaming only)
Optional 3rd Party Tools:
Str3amup! can be used to send hotkey combinations to the Windows system that can trigger effects in 3rd party software using your biometrics
Compatible 3rd party software must support receiving and acting on hotkey combinations: Ctrl+Shift+F9, Ctrl+Shift+F10, Ctrl+Shift+F11
Examples are soundboard type applications for audio effects or applications that can apply video filters to the streamer's web camera
So does it work? Yes, the Garmin Str3amup! software actually does a great job of displaying your current heart rate, as well as stress and body battery levels, to your PC. It refreshes at a near-instant rate and with solid accuracy. You can choose several different layouts and even customize the colors of the overlay. Garmin even gives you the option to turn off the "Powered by Garmin" tag at the bottom of your overlay, which is a nice surprise.
How does it feel?
I've never been a watch guy. Ever. I've tried to wear them, but there's always something about them that I don't like – even the Garmin Vivoactive, another Garmin product, is uncomfortable. However, I can safely say that I think I've finally found a watch that I feel comfortable wearing for more than 2-3 minutes at a time. I still find myself needing to adjust it occasionally, but not nearly as much as I need to constantly adjust every other watch I've ever owned.
Is it Worth $300?
Yes, the Garmin Instinct Esports Edition is worth the $300 it will cost you to get your hands (literally) on this watch. Maybe not if you literally just need something to keep track of time, then you can probably get by with a $10 watch from Target, but if you're even considering a Garmin watch, then that's not you. You're looking for something that has a ton of cool features (even if you won't use most of them), and really want to keep track of your activity. The ability to also broadcast various biometrics to your viewers on Twitch, YouTube, or even Facebook, is also a huge plus if you're in the content creation industry, and this will save you a ton of money as you won't need to purchase another expensive device to do the same thing that this watch does.