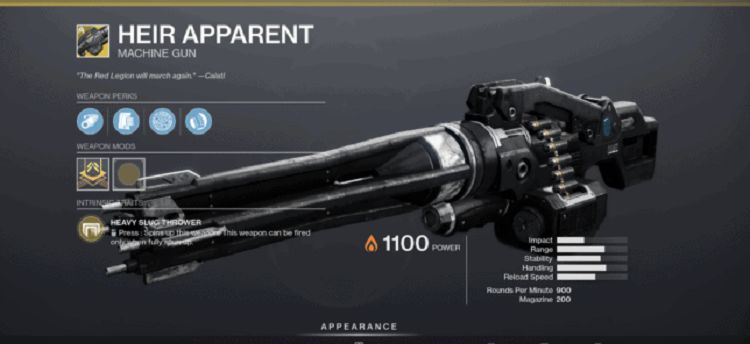 With the newly restarted Guardian Games event in Destiny 2, we've seen the triumphant return of the Exotic Machine Gun, Heir Apparent. This was a previous event exclusive that could only be obtained within the Guardian Games 2020 event, and required a whole lot of grind if you wanted to get your hands on it. With Guardian Games 2021, there's a bit of a change on how to get your hands on the gun, as well as some new surprises that come along with it including a catalyst as well as a brand new ornament. While the gun itself is a bit of a hit or miss, many players are eager to get their hands on it in order to add it to their collection. So what do you need to know about the Heir Apparent Exotic Machine Gun in Destiny 2?
How to get the Heir Apparent
The Heir Apparent, again, is an Exotic Machine Gun that was introduced in last year's Guardian Games event. While some found it to be an interesting take on the Machine Gun weapon type, many found the weapon to be a bit underwhelming and not nearly worth the amount of time it took to actually obtain the weapon. This time around, the process of getting the Exotic Machine Gun will require a much lower time sink. In order to obtain the Heir Apparent in this year's Guardian Games, you'll need to complete Eva Levante's introductory quest for Guardian Games. All you really need to do here is talk to Zavala, pick up your class item for the event, and then hop over to Eva and she'll give you a quest titled "The Games Begin" in which you'll need to pick up 100 Laurels and then purchase a Contender Card by using said Laurels. In order to pick up Laurels, you'll need to make sure that you are actually wearing your Guardian Games class item, or else you won't get anything. After you purchase the Contender Card, you'll be able to pick up the "Wreathed in Laurels" Exotic Quest that you can pick up. If you already got your hands on Heir Apparent last year, then you have no need for this quest, and as such, Eva will not offer it to you. The first step in this quest is to pick up 50 Laurels, which is pretty easy if you just hop into any activity with a bunch of enemies around like Blind Well or strikes. After you've picked yourself up 50 Laurels, you'll be required to defeat 100 enemies with a Machine Gun in the Daily Focus playlist, so either strikes, Crucible, or Gambit depending on the day. If you decide to attempt to get these kills while the Daily Focus playlist is set in the Crucible, you'll get bonus progress, but that also means you'll need to fight for heavy ammo, and from the state that Crucible is in right now….that might not be the greatest idea. After you've completed the 100 kills needed, you can return to Eva and turn the quest into her to obtain your new Heir Apparent Exotic Machine Gun.
Exotic Perk
The Heir Apparent intrinsic perk states "While at full health, spinning up this weapon protects you with an Arc Shield." However, the Exotic perk on the weapon states "Spin up this weapon. This weapon can be fired only when fully spun up." So, unfortunately, you'll have to make sure your weapon is fully readied-up before you get a chance to do any damage with it, so you better make sure that you're in and ideal situation to use it.
Exotic Catalyst
What's new with the Heir Apparent this year is that the gun is finally getting an Exotic catalyst! How do you get it, you ask? Well, unfortunately it's a random drop…and you have to get (and complete) it before the Guardian Games event ends on May 10, 2021. There are three steps in the Heir Apparent catalyst quest, so here's what you need to do to unlock it:
Earn (50) points by obtaining medals. Higher tier medals are worth more points

Bronze: 1 point
Silver: 2 points
Gold: 5 points
Platinum: 15 points

Complete 3 Contender Cards
Defeat combatants with Machine Guns in the Daily Focus playlist to collect (90) Competitive Spirit. Precision final blows grant bonus progress.
After you complete these three objectives, you'll unlock the catalyst and then in order to fully complete the catalyst, you'll need to get a total of 700 kills with Heir Apparent. So, it looks like you'll be using this weapon a lot if you want to get the most out of it. The catalyst perk "Legion's Bulwark" increases the Arc Shield's durability and partially reloads the magazine if the Arc Shield is destroyed.
What are you still doing here? Go get your Heir Apparent and catalyst!