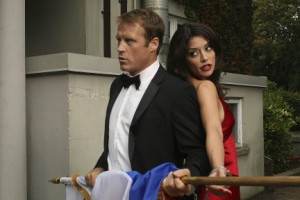 First, she played fiesty FBI agent Emma Barnes on Human Target. Now, she's journalist Liza Hearn on Covert Affairs. In this exclusive interview, actress Emmanuelle Vaugier dished about her time on Human Target and what might be next for her on Covert Affairs.
How did you get involved with Human Target?
I was called in to meet and read for the producers and director, and found out a couple of days later that I had been offered the role of Emma Barnes.
One of the most impressive moments of your first episode ('Embassy Row') was the sequence where Emma and Chance are handcuffed together. What was that like to film? How difficult was it?
We had a great time filming that scene. It was a little tricky being handcuffed together during a fight scene. It felt more like a dance than a fight.
When you came back in 'Baptiste,'it was alluded to that you might actually be killed off. Did you ever think we'd seen the last of Emma?
When I was reading the episode for the first time, when I got to that part, I thought to myself, "Well that sucks!'But then, about ten pages later, I was happy to see that I had made it out of the building unscathed!
You were perhaps the first featured female character on Human Target. Now the show has added two female regulars in Indira Varma and Janet Montgomery. What do you think about the addition of women to the full-time cast?
The addition of women to the cast is brilliant, I think it will bring more balance to the show.
Is there any possibility you'd make a return appearance to Human Target?
That's always a possibility. I had such a great time on Human Target, I would welcome the opportunity to come back.
For the fans who don't know, tell us about your character on Covert Affairs. How long is Liza going to be around? What's ahead for her?
Liza is a journalist/blogger who is constantly stirring up trouble for the CIA. I am around for most of the season. As for what's ahead for her, that is entirely up to the writers of the show!
Is Liza going to find out about what happened with Auggie and his ex in 'Communication Breakdown'?
You are just going to have to wait and see! All I can tell you is that you can look forward to some juicy stuff in upcoming episodes!
So who's the better love interest — Human Target's Chance or Covert Affairs'Auggie?
Oh boy, that's a tough one. I'd like them both to know that I am not above accepting bribes.
Would you ever like to play a spy-type character yourself?
Um, YES!
Emmanuelle also has the distinction of being a celebrity who is out there and accessible to the audience. Her fans can find her at her website (http://www.emmanuellevaugier.com/) and she's recently opened a Twitter account (@evaugier). Fans who enjoy her work on Human Target and Covert Affairs should stop by and say hello! Much thanks to Emmanuelle for taking the time out of her busy schedule to chat with us. You can catch her on Covert Affairs, every Tuesday night at 10 PM on USA.