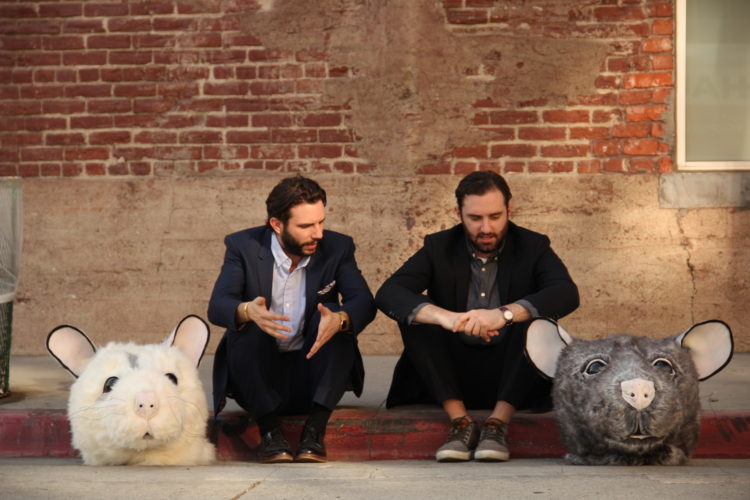 Mike Luciano and Phil Matarese are the stars, EPs and writers of HBO's super successful adult animated series, ANIMALS. ANIMALS is set to premiere its third season on Friday, August 3rd. The series explores the dark and funny lives of New York's vermin (rats, pigeons, and other animals) and is executive produced by the Duplass Brothers (Mark and Jay). Phil and Mike got their start working together at an Ad Agency and the guys started making shorts on the side as fun. The guys entered their short into the New York Television Festival and were noticed by The Duplass brothers. This led to a supply closet SKYPE call between Phil, Mike and Mark Duplass and viola, ANIMALS was born.  We had a chance to sit down with Mike and Phil and here are some of the questions we asked and the answers they provided us.
1. What gave you the idea for the show "Animals?"
PHIL: Mike and I were at our old advertising jobs in NYC and we started voicing these two pigeons on the window and I said "lemme make some animations to this." So we did. Living in New York you see all these little creatures making homes in the arguably least hospitable place for them (or humans) on earth. We just wanted to zoom in to those nooks and crannies and tell their funny little stories. Over about a year we molded it into the half-hour tv show you know and ABSOLUTELY LOVE today.
2. You've had some amazing guests on your show so far. Who was your favorite and why?
MIKE: Music artists are so fun because they tend to reveal a side of themselves we don't normally see. Usher as my pigeon son Miles was amazing. Ke$ha's worm had us peeing our pants as did Big Sean as a swindling cat. For Season 3, we had a ton of great actor-actors that we admire like Jared Harris, Edie Falco, David Harbour, Jameela Jamil, Anthony Mackie, Michael Sheen who brought such life to characters we had in our heads. Our season opener features Bob Balaban saying some truly insane things I can't repeat here but you can watch when it premieres August 3rd, 11:30pm on HBO.
3. Which episode of the series is your favorite and why?
PHIL: Very hard to pick! From the past two seasons I really liked Flies (season one, episode seven). It was kinda our first all-in genre send-up and it's just a very cute, neatly written story. Plus there's a great bodega cats rap by ASAP Ferg & Rocky in it. But I would also add that this season, season 3, is my favorite of all the seasons.
4. What can fans expect to see in season 3?
MIKE: The best season thus far by a mile. Whether you already dig the show or are new to Animals., Season 3 is for you. With New York City devoid of humans, Season 3 begins with each animal species having sectioned off its own distinct neighborhood. Eventually- spoiler alert- the animals learn to communicate across species lines and attempt to come together to survive yet another existential threat from greedy humans. If the premise sounds lofty & high-minded, it is- but there's plenty of lizards hitting bongs and a rat trial debating the careers of Jim Carrey vs. Adam Sandler to keep us grounded.
5. What advice would you give to any aspiring show writers or producers?
PHIL: Don't get overwhelmed by structure and all that sorta stuff- what's most important is just getting in and writing your damn thing. Don't talk about it, don't ruminate on it, just write it. After you have a thing written, figure out how much of it you can make on your own. Then share it. Submit it to festivals.
Work on your posture? I feel like I have terrible posture from sitting behind a computer. Also put blockers on social media on your work computer (or at least a timed blocker). Also put a timer on your phone to track usage- I use an app called Moment. I promise it will make you sick to your stomach how much you actually stare at it.
Don't be afraid to reach out to people and ask questions if you have them. Just make sure they're specific.
6. Have you guys always been interested in film/TV? Tell us about your backgrounds….
MIKE: We both met while working at a small production company/ad agency, which is pretty great job for a young person aspiring to enter the entertainment industry, because you are paid to get better at the craft of actually CREATING & MAKING something, rather than a job looking in on the creative process from the outside and climbing some ladder until the day when YOU get to get your hands dirty. Individually, we were always making short films, music videos, etc. outside of work, and soon realized our common sense of humor, aesthetic and proactive ethic would jibe, and that instinct has served us well ever since.
7. What are you guys working on that the fans don't know about
PHIL: We're working on all different sorta things: more animation, more tv, movies- all types and sizes. It's a very fun time for us both. I'm really excited for people to see the Phil and Mike world open up and what else we can do. Also we're opening up a literal "Phil and Mike World" which will be a shitty, incredibly dangerous theme park.
8. What are your goals in this industry?
MIKE: #1) Profit millions to make enemies jealous with rage, but that's boilerplate for everyone; #2) I said the jealousy thing with money? In that case 2nd would be to keep getting to tell stories in any form that feel new & innovative, with our specific blend of high joke ratio, dash of absurd, and underlying heart. That's what we love and can make forever & ever. If we can keep answering the question all projects should ask themselves in 2018- "Why, God why, should this exist"- then I'll gladly keep making because it's the only thing that makes me feel alive. #3)-#25) JON EDELMAN YOU TOOK MELLISSA BUKOWSKI TO PROM INSTEAD OF ME, HER BOYFRIEND, AND NOW I'M A BIG TV & MOVIE MILLIONAIRE I SWIM IN MONEY IN THE HOLLYWOOD HILLS– I HATE YOU JON EDELMAN!!!
9. What is your favorite show of all-time and why….
PHIL: Good question. I'd have to say The Sopranos. From start to finish it was absolutely engaging and… cool. Coolness is a weird hangup I have about stuff. It's hard to elucidate but generally: there's no corny moments in the Sopranos. The pilot was cool. The finale was cool. A fish talks to Tony at one point, and it's cool. Even AJ's weirdly thin beard in the later seasons, in it's own right, is kinda cool.
In my opinion, The Sopranos did the whole "antihero" thing better than anyone else AND a not-hitting-you-over-the-head subversion of masculinity. Tony was this big bear that was arguably the weakest (health wise) out of anyone in his crew AND would cry about horses and shit. We loved him but never LOVED him- nor anyone on the show. Except Vito's goth son. I loved him.
I would also say 'Atlanta' but it's still very new. And maybe the cartoon 'Clarence'.
10. What is your favorite movie of all-time and why….
MIKE: Phil & I often talk about the perfect stew of high art & low art, so in that regard some picks:
High Art: SYNECDOCHE NEW YORK, DO THE RIGHT THING, DISCREET CHARM OF THE BOURGEOISIE
Low Art: AUSTIN POWERS, BASEKETBALL, HAPPY GILMORE
The Perfect Soup: SIMON BIRCH* (*See Season 3 for more info)