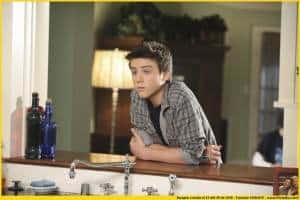 Most of you are familiar with 15 year old Sterling Beaumon from his role as young Ben Linus on LOST. Tonight he returns to the small screen with a stunning turn as a teenage killer on Criminal Minds.
I recently caught up with Sterling to discuss his penchant for playing creepy characters, and was very moved when the conversation evolved into his revelation that he had been bullied. He offers some very good advice for other young people who may have similar experiences.
Q: What was the audition process like for your role on this week's episode of Criminal Minds?
SB: I didn't have to even audition, which was very cool. I was called in for a meeting with the writer, producer and casting director to discuss having me play the role. Not too long ago I portrayed a teen character in The Cleaner and that, along with my role on LOST, sparked interested in the writer to create my character on Criminal Minds.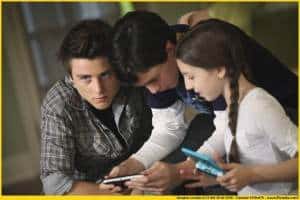 Q. Your ability to transform into a creepy young man is quite impressive, given that you're such a high-energy teenager in real life. We first got a glimpse of your dark side with young Ben Linus on LOST, then as a drug addict on The Cleaner, and now you've graduated to serial killer. Where do you draw inspiration for these roles?
SB: Originally I auditioned for the role of young Ben, not knowing much about the show or Ben Linus. I just thought about how awful it would be to see your dead mother as a ghost and a father who blamed you for everything.
The Cleaner was a bit more difficult because I have no experience with being a drug addict. I had a little help from my acting coach, as he explained to me what someone under the influence acts like. We read a lot about what young children on drugs go through, and I really thought about how a kid would feel emotionally when they are left without parents and answer to a drug dealer. I actually had a chance to speak with Warren Boyd, which also helped, as he is the real life Cleaner.
For Criminal Minds, I pulled from a little bit of both young Ben and my Cleaner character. I did get a lot of inspiration to play the role of a killer from watching Michael Emerson play Ben Linus.
Q. It is a brave and admirable choice to share your personal experience with bullies, especially given the national spotlight on this issue right now due to the recent teen suicides. What advice might you have for others who may be victims of bullying?
SB: You know, it is awful that bullying is such a huge issue. To kids that are out there and going through it, first — in most instances, bullies are the ones that are insecure and the ones with the real problems. You have to remain strong and confident with who you are, and try to understand that it really is NOT you. Even bullies hate bullies! Believe me, I know that things can seem bad when you are constantly being taunted, especially if it gets physical. But if it is serious, you have to tell someone.
I was bullied both verbally and physically, and going to your parents may help but it is important that someone at your school, like a teacher or principal, knows what is going on. It is just so important that you talk to someone. Internet bullying is just as serious because it is just as hurtful and depressing. When I experienced it, I went to my mom and she made sure that someone at my school knew. They then went to the kid and told his parents. Now, we are actually friends and he's told me that he was just jealous and wanted to bring me down.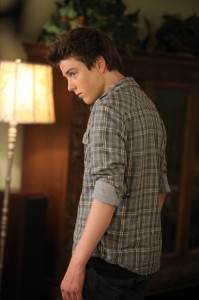 Q. With this role on Criminal Minds, is the door left ajar for your character to return?
SB: I really hope that my character will return. You will see at the end of the episode that it may be possible! It seems they may be able to talk to him and get a glimpse into his sick mind, but you'll have to keep watching the show to see if they re-visit the character at a later time.
Q. Are you auditioning for other TV roles right now? Where can your fans find you next?
SB: I am always auditioning and hopefully there is a good role on the horizon very soon. Of course I would love to be a part of an amazing film or even become a series regular, like on the new Terry O'Quinn/Michael Emerson show (Cough… yo, J.J. Abrams!). I have also heard that Damon Lindelof, along with several of the other LOST writers, are working on a new show and I'd love to work with all of them again. Until then, I have an AT&T commercial coming out and I love working on my music in my free time. I've got a couple songs down and finished my It Girl music video, but acting is my first passion.
To keep up with what I'm up to, whether it is acting or music, follow me on Twitter (@SterlingBeau) and Facebook. My website (sterlingbeaumon.com) should be online and up in the next week or so. Thanks for reading and enjoy the Criminal Minds episode – I can't wait to hear what you all think!
Tune in to see Sterling's disturbing turn on Criminal Minds ("Safe Haven") tonight on CBS at 9/8c, and then share your thoughts about the episode below!
For more information about the prevention of teen bullying and suicide, please visit The Trevor Project.
[Follow Jo on Twitter @jopinionated]