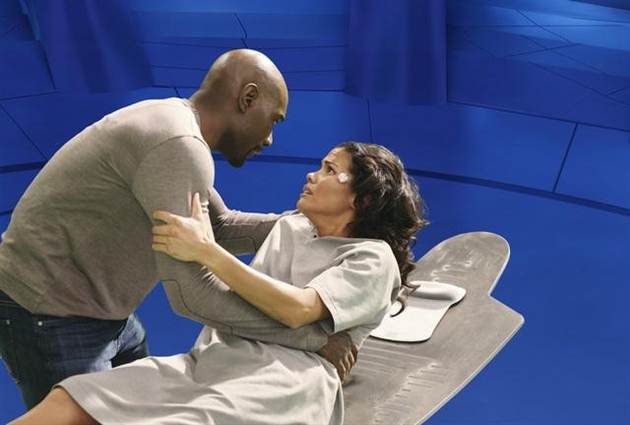 V's first season comes to a close tonight, hot on the tail of ABC's official renewal of the series for mid-season. One of the most compelling story threads is the hybrid pregnancy between Visitor turned human sympathizer Ryan (Played by Morris Chestnut) and his human wife Val (Lourdes Benedicto). The pregnancy has progressed at an accelerated pace and at the end of last week's episode of V we caught word that Val's water had broken. Adding to the complications is the fact that Val has caught wind of Ryan's non-human status and is in fear for her life. With his human wife in hiding, Ryan's humanity has become more and more tentative.
I had the chance to talk with Morris Chestnut, and I asked him if he thought Ryan's humanity was slipping away. 'It would be fair, and accurate to say that. It is starting to slip away because of his separation from Val, and it is going to be interesting to see what happens with it.'
And with the baby on the way, what role does V's supreme commander Anna play in the future of the pregnancy? 'I think it's probably safe to say that there is going to be some type of shenanigans from Ana to try to stop the pregnancy, and I have to really get involved.'
Speaking of weakening allegiances, last week human freedom fighter Hobbes made a definitive turn towards the dark side. Since there were once tensions between Hobbes and Ryan, I asked if a confrontation between the two might be looming. 'Ryan still has trust issues with Hobbes, but Hobbes has proven himself to a certain extent to be '˜on the team.' Ryan will never be able to trust Hobbes 100-percent because he was the reason Georgie went back up to the ship and sacrifice himself. Ryan wouldn't be surprised by it, because I've always had my suspicions about Hobbes. At one point, I was pretty much just waiting for it.'
The one thing that may get in the way of a clash between these two is Ryan's fragile allegiance to the humans. Morris told me that Ryan's descent could go deeper than any of us expect. 'I think the one interesting thing about Ryan is that you probably don't know where his allegiances are going to lay. We've known where he's been for most of the season, but I don't think that we are going to be able to continue to know what side he is on.'
Tune in for the V finale "Red Sky" tonight at 10pm EST on ABC.