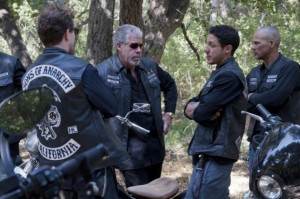 After their fourteen month prison sentence, the outlaw boys of SAMCRO, along with their formidable old ladies, are back in the fourth season premiere of FX's Sons of Anarchy. Following their battles with the IRA, rival motorcycle clubs, and the law itself, the Sons have found themselves up against a very powerful new enemy: the gentrification of Charming as a result of the development deal Jacob Hale put into motion before he apparently won the race for mayor. As for the club itself, most of the boys may have done time together but make no mistake that the fractures in the group's dynamic are still there with the possibility of getting even deeper. Let's take a look at some of the highlights of a premiere episode that promised a season of bigger changes still to come for the SOA and their loved ones.
New Enemies, New Allies
Right from the start we're given a glimpse of a stranger in town when the boys roll down Charming's main street on their first day out of the slammer. It turns out that this man is with the U.S Attorney's office and they've set up shop in Charming, in the offices right above the newly-installed San Joaquin sheriff's department. The audience has always known that despite all their claims of being merely a motorcycle club that the boys of SAMCRO are really more akin to a motorcycle mafia–this type of wide-scale investigation into the club and its surrounding factions is long overdue after the range of criminal activities Jax, Clay, and the boys have participated in over the past three years and longer.
As for this new adversary to the club, Lincoln Potter, he seems to be a very intriguing anti-Agent Stahl. He wears a leather jacket (albeit it looked to not have a hint of wear on it), rides a bike of his own, and exhibits a downplayed charisma that certainly is the opposite of the late agent Stahl's increasingly self-serving and brash law enforcement official. There's also a new sheriff in town who's already made his presence known by giving the boys a welcome home warning about behaving or they'll get put right back in prison. This '˜safer'version of Charming won't last no matter what anyone says about not wanting to cause bloodshed–it follows the Sons wherever they go.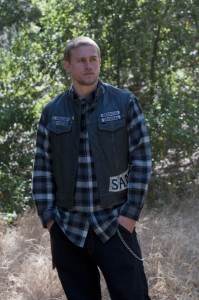 But SAMCRO still have a truce with the Mayans that should prove to be helpful as the season goes on. It was interesting to get to see the head of the Mayan club at an SOA social function having a beer with the crew as if all the bad blood and misunderstandings of season past were truly water under the bridge. Then again, adopting the attitude of doing what's best for business will go a long way toward keeping fences mended as long as business keeps doing well.
The Club is Family, and the Family Has Grown
In this episode alone there's a wedding, a proposal, and the appearance of a new member of the Teller family as Tara gave birth to she and Jax's son, Thomas, while he was locked up. Tara is definitely a true '˜old lady'now whether or not she and Jax ever make it official. And now that he has the future of his two sons to think about, it's starting to make Jax envision a real life outside of SAMCRO and even away from Gemma and Clay. So I wonder if he'll really start to make steps toward that type of future, or if this will wind up being one of the many times Jax has talked about leaving the club. Remember what I said about motorcycle mafia? Yeah, you don't get to just up and leave something like this Jax.
The club itself has grown to count a familiar face among its ranks. It's not really spoilery to say that during the crew's jail stint, Kozik got voted into SAMCRO. As an unabashed hardcore fan of The Shield (which of course SOA creator Kurt Sutter worked on before this, so it was likely an easy decision behind the scenes to bring the character back this season), I'm personally beyond pleased that we'll be seeing more Kenny Johnson around the SAMCRO clubhouse. He was a highlight on The Shield and I'm sure that having more of him on Sons of Anarchy can only be a good thing for the show.
Anti-Heroes or Bad Guys? You Decide
There's something really huge that could shift how the audience sees the SOA and it happens at the reception of the previously-mentioned wedding. For the first three years, even though the club has been involved in countless criminal pursuits, it was a little easier to cheer them on with the knowledge that there was usually something that happened to them first that required retaliation or self-defense.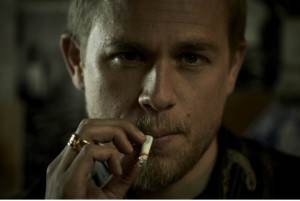 Even last season's brutal execution of ATF agent Stahl and IRA associate Jimmy O'Phelan felt necessary to not only tie up the plots both were involved in, but to give emotional resolution. They were both involved in some heinous acts no matter what side of the law they stood on, and to see the Sons give them both due comeuppance really felt like the ideal definition of '˜outlaw justice'. Let's just say that in the premiere Clay is definitely the instigator in the handling of their current business dealings, and the way he handles his business absolutely shows all of the things Jax believes that the club has come to mean–and not for the better.
For most of the episode it was SOA business as usual as the boys readjusted to being back on the outside while their hometown has started to change without their presence. But by the bloody end of the episode, it seems that now that SAMCRO literally has the kind of firepower to be at the top of the pack they're going to take the opportunity and not let go without a fight. FX loves itself an anti-hero, and the great thing about Sons of Anarchy is it's basically a show about an entire cast's worth of them. However, it really makes one wonder how far will be too far as the boys taste real power in their underground world.
I'm also glad that it's looking like we're going to have the next round of Jax vs. Clay this season. So much has happened, over season three especially, to detract from this important ideological struggle being a focus of the plot. As well as there have been lessons learned from the taking of Abel to help guide Jax toward being forced to think about what he wants his family's future to look like. There's also this ominous vibe over the letters given to Jax by his father's former lover, Maureen, which crept its way into the episode. I think this year we're finally going to learn a horrible truth of John Teller's death–if they're what I believe the show is implying them to be then this may truly be the season where Jax gives up the life and starts again somewhere else, or die trying.
Sons of Anarchy's fourth season premieres with a 90 minute episode, Tuesday September 6 at 10 p.m. on FX.