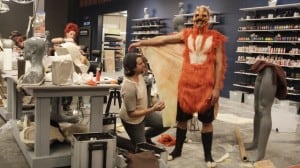 Face Off will be returning for a fourth season of transformations and putting impressive talent on display in 2013, Syfy announced today. The show, presently in its third season (and second of 2012), has quickly become one of the network's highest rated programs, earning the critical praise to match its strong performance.
Face Off pits a group of special-effects make-up artists against one another in a series of challenges meant to test their technical skills, ability to think on the fly, and creative vision. In the third season, the contestants have had to turn a child artist's drawing and imagination into reality, create a Chinese New Year dragon that could survive an intensive dance routine, and bring to life an original pirate character that has become one with the sea, among the many tasks they've been faced with in their bid to join Conor McCullaugh and Rayce Bird as Face Off champions.
Currently remaining in the hunt for the guest lecturer slot at the Make Up for Ever Academies in New York and Paris, the 2012 Toyota Prius v, and the $100,000 are Roy, Laura, Derek, Nicole, Alana, and Sarah. On the next episode of Face Off, the final six will be tackling a Dr. Seuss-themed challenge under the watchful eye of special guest judge Brian Grazer. Will any of the contestants badly stumble now that the competition is nearing its end?
Face Off airs Tuesdays at 9:00 on Syfy. Following Face Off at 10:00 is Hot Set, a fellow competition series that finds two teams of set designers competing to create the best original movie set.
Who do you think will win this season of Face Off? Did you agree with the decision to bring back a previously eliminated contestant last week? What changes, if any, would you like to see in season four?