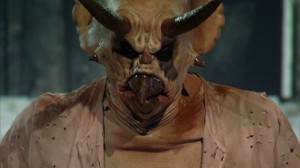 After starting the season with 14 prosthetic makeup artists vying for the top spot, Face Off has whittled the competition down to three: father of four Rayce, fan-voted RJ, and young upstart Ian. We've seen plenty of good artists have to pack their kit and go home, but these three represent the cream of the season 2 crop. However, only one will get the title, the $100,000, the Alcone makeup, and the 2012 Toyota Camry Hybrid.
On tonight's Face Off finale, some of those booted artists are back to aid Rayce, RJ, and Ian in the ultimate spotlight challenge and judging by the task in front of them, they need all the help they can get. The three men are being asked to create three original characters, from either horror, sci fi, or fantasy, that will perform an original dance routine in front of a live audience. Think of it like the zombie challenge from season one, only much bigger and with higher stakes.
In the sneak peek below, you get a look at the work in progress and the team formations. Ian has some trouble with hand molds not opening, a major part of one of his three characters, while Rayce has already been second guessed and undermined by Jerry due to his inexperience. RJ seems to be the steadiest in the work room, effectively working with Athena and Brea, but it only takes one element of such an elaborate challenge to go wrong for the game to change completely.
Face Off airs its second season finale tonight at 10:00 on Syfy. The show was renewed for a third season last month, which is set to begin production in spring for a summer launch.
Who are you rooting for in the finale: Rayce, Ian, or RJ? What kind of creature would you like to see them create for the final challenge? Judging by the sneak peek, who has the best team around him?
http://www.youtube.com/watch?v=vW2CYCAIYSU