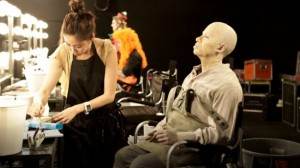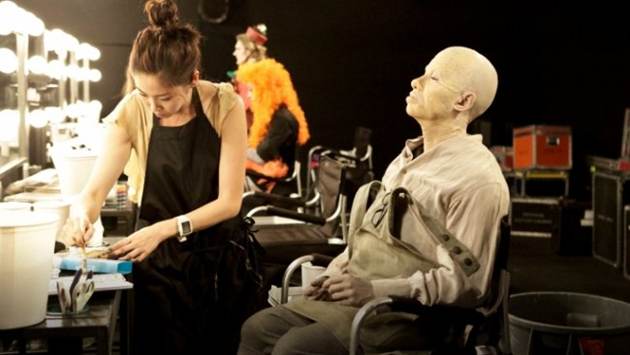 The second season of Face Off had a dilemma that most reality-competition shows would kill for. Before us tonight stood three nice, talented artists that you wanted to see win; nobody skated by, nobody seemed like a preordained winner, and everybody won by baring witness to the cool designs unleashed in the finale.
But it was Rayce, father of four and former tattoo artist from Idaho, that took home the $100,000, the 2012 Toyota Camry Hybrid, and the $25,000 worth of Alcone makeup. Rayce had arguably been the frontrunner coming into the finale, with two wins and no trips to the bottom, but his well thought-out paint job, exceptional sculpting, and three-faced character helped put him over the top. Rayce's team included Jerry, Miranda, and Heather.
Season one winner Conor McCullagh recently completed work on the upcoming adaptation of The Hunger Games, so if that's any indication of what Rayce can look forward to, I doubt he'll be returning to the tattoo parlor anytime soon.
RJ and Ian were no slouches, though, thanks to great concepts (Ian's Lucifer/hellhounds) and impressive execution (RJ's vibrant phoenix). RJ's team for the final challenge (aka "RJs Angels") consisted of Beki, Athena, and Brea, while Ian chose Matt, Sue, and Tara. Interestingly, they helped make up the second all-male top three on Face Off, with Conor defeating Gage and Tate to take season one.
Face Off will begin production on its third season this spring, with a premiere to follow in summer. Host McKenzie Westmore and judges Glenn Hetrick, Ve Neill, and Patrick Tatopoulos will be returning to guide/critique a new slate of aspiring artists.
Who were you rooting for: Ian, RJ, or Rayce? Did you like the dance routine that the nine models did? What do you hope to see in the third season of Face Off?