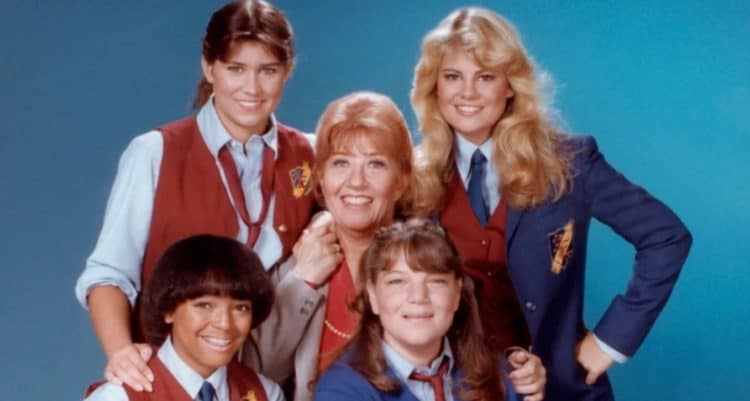 Break out the cheese since Lifetime has made it clear, as has Bethany Guerrero of ScreenRant that the Facts of Life cast will be coming together for a Christmas special that will be aimed at releasing on December 1st. It's been a long time since we saw the girls together and unfortunately one of the cast won't be making it as Charlotte Rae, aka Edna Garrett, passed away in 2018. There will be plenty of discussion centering around her likely as there will reportedly be an ice rink in the movie named after her. The whole story goes that when the girls return to the town they find that the Christmas cheer of the place has been found wanting this year, which of course is the right time to come together and help people find the good cheer that will bring them together and cause everyone to be happy and joyful once again. It's Lifetime, this is a common thing that tends to happen since joy and happiness are their stock and trade a lot of times, especially when it comes to the holiday season. It's that time of year again, so you can imagine that Lifetime won't be the only channel hopping on the joy train, but as one of those that seems to do it better than many they'll be ramping up the cheesy jokes and feelgood moments.
There was something about this show that almost made it feel like a comfortable part of the lineup when it was on at first, a kind of familiarity that wore off quickly for some but is still highly pleasing for others since it gives them a glimpse back into a time when they figured that life still made sense. The show dealt with real-world issues quite often and didn't get so far out of control that people could no longer relate to it, and that was kind of nice since it gave people a real chance to connect with the characters and try to experience life through their eyes. This was possible either because people felt that they knew what the characters were going through, or simply because they idolized them in some way. In any case the show was one of those that a lot of people came to like since it was simple enough to follow but dug deeply into a few issues that were seen to affect a great number of people. How it's going to translate into a Christmas program is yet to be seen, but at this rate it almost seems as though it won't be all that tough.
Likely as not some people will be looking forward to seeing their favorites come back since I'll admit when there was nothing else on I did kind of enjoy watching Jo, as she was the toughest one of the bunch and didn't take any flak off of anyone. Natalie was the girl that just about everyone likes but a lot of people tend to see as the person that's trying to please everyone, while Tootie might have been called the token person of color but still had her own share of influence over the story since she was a nice girl but was also someone that had her own unique opinions as well. Blair was by far the hardest to take at times as she was the spoiled rich kid that tended to think she was above everyone else, but she was also seen to have her fair share of issues. It's a bit saddening that Charlotte Rae won't be there, but you can imagine that they'll keep her memory strong throughout the movie and make certain that she's still a part of it. After all this was one of the more iconic shows from back in the day and it was one of those that a lot of people would have kept around had they been given the option. For some people the theme song became kind of a running joke, as was seen on shows like Married With Children, but for others it was a simple callback to a much different time in terms of TV and society.
Lifetime has become a powerhouse when it comes to the touching, sappy stories, especially around the holidays since they're the channel that people go to when they want to hear cute, cuddly jokes that have just enough edge to them to be risque. But they're also the channel that people go to, along with the Hallmark channel, when the need for emotion and an outpouring of old-fashioned family values are desired since they haven't changed their tune much in the last several years, much to the enjoyment of many viewers. This movie could be one of the many that come and go and only seems important to the fans, but it does feel as though it will be noticed all the same.