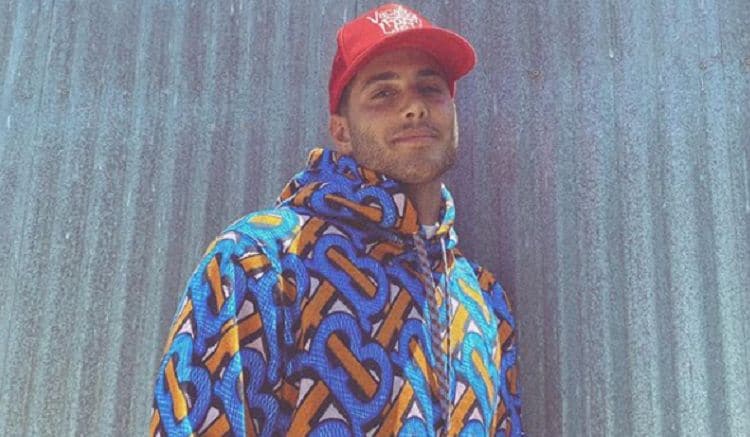 Does the name Fai Khadra mean anything to you? There's a good chance it does not, but that doesn't mean anything, honestly. He's a guy. He's a guy who has been spending a little quality time with some girls. Those girls happen to be the Jenner sisters. You know, Kylie and Kendall? That's them. Is he dating them? What's going on here? It turns out, he seems to be a friend of the family, and they like to have him accompany them as their dates from time to time, and we are just over here ready to admit that we are in love with that entire concept.
1. He Doesn't Distance
He's been in the headlines a lot lately for going to outings with the sisters in a close and personal capacity. There are photos of him sitting close to Kendall Jenner in what looks like an audience with a bunch of people next to them without masks and without distancing, but we have to be honest and tell you that we aren't surprised since we can't remember the last time we saw anyone distancing or masking.
2. He's A Brother
Not only is he a brother, his siblings are quite famous. Did you know that he's the brother of DJ duo Sama and Haya, who are known as SIMIHAZE? They are big in the DJ world, and everyone knows who they are. They have a huge list of massive clients, and they are well-known everywhere.
3. He's a DJ
When he's not making headlines as the man who is with either of the Jenner sisters on vacation, on dates, on red carpets, at parties, and everywhere in between, he's also busy with his own life. He's also a DJ, but sometimes he also models for a living.
4. He's Been in Paris with Kylie Jenner
Not only are they in Paris together, they are clearly taking some very steamy photos together on rooftops in the city of Love. They seem to be having a good time, but we don't know if they are dating. He's good friends with Kendall and Kylie, but he seems to be traveling the world with Kylie these days.
5. He's From Saudi Arabia
He was born in Saudi Arabia, but he was not raised there. He and his siblings were actually raised in Dubai. His mother owns a boutique that's what you might classify as an upscale boutique with high-fashion items for sale. She's in Saudi Arabia with that.
6. He's Kendall Jenner's Date
But, they don't date. That's how she described him when many people began to assume that they were an item. She quickly shut that down and is fine with the world knowing that he is just a very good friend of hers, her sisters, and her entire family. He seems close to all of them, to be honest.
7. He Allegedly Dated Kourtney
Now, we know that she's a lot older than her little sisters, but that's not to say she cannot date their friend. He's around 28 right now, so he's not that much younger than her if you are fine with age differences over a decade. She's free do to what she wants, including dating younger men who might be very good friends with her sisters.
8. He's Doing Well
Since he's so famous, people want to know if he is doing well in life. We do know he models and that he is a DJ, but is he good? He's good enough to have a net worth that is around $2 million. Though there are some rumors that a bit of his money comes from his family, he seems to be working hard and doing what he can to hustle and make a name for himself. Spending time with the Jenner/Kardashian clan is one way to make a big name for himself, if we might add.
9. He's a 90s Baby
We can confirm that his official date of birth is September 9, 1991. He got to grow up in the 90s, which is a cool time to do that. However, we don't know what life was like in the 90s in countries like Saudi Arabia and Dubai. It might not have been as easy going as it would have been for him if he'd been raised elsewhere.
10. He's Private
For a guy who is hanging out nonstop with the most famous family in the world, he's pretty private. He doesn't comment on speculation about his personal life or his dating preferences. He keeps mum, hangs out with his friends, and he's just good to go.