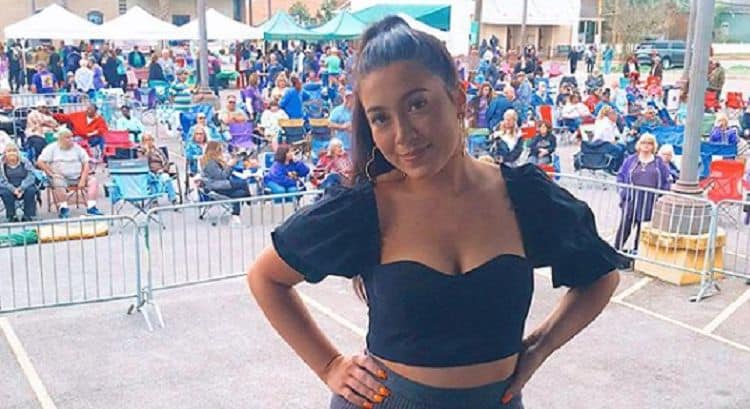 It's American Idol season, and that means it's time to meet the faces and the names, and the people who are working so hard and so diligently to make it big. It means seeing people you may not know from the man next to you on a flight, and it means hearing voices that were created with magic. It means picking favorites and seeing what works with who and what doesn't, and it means sometimes feeling torn between talents. It's all normal. But, did you previously know Faith Becnel? She's a singer, with a band of her own, and she's now a finalist. This means you may not know much about her now, but you will know so much about her in no time at all. We thought we might give you a heads up.
1. She's from New Orleans
Born and raised, she is a girl from the south. She knows all about things like Mardi Gras and beignets and the best gumbo in the world. She's no stranger to creole cooking and southern hospitality, and she's also not a stranger to performing. She's been doing it her entire life. She's good, too, or she would not be someone we were sitting her getting to know a little better.
2. She's 21
She may look older, but she's still a young woman. She's only 21, and she's been performing nearly her entire life. She may look like she's a little older than her age because she's been working hard to make it big her entire life while the rest of the kids her age were doing the things that they found fun and relaxing. She's been hustling this entire time, and that gives her a sense of maturity in the way she walks, talks, and carries herself. It's not a bad thing.
3. She's a Talent Show Pro
She may be a contestant on the biggest music show in the world right now, but this is certainly not her first rodeo. Many years ago when she was a young teen, she auditioned for and was placed in the show "America's Got Talent," with some other famous judges. She was one of 70 people picked to continue to audition after the initial 1500 tried out. While she may not have made it any further than that, she has nothing to complain about being that far into the competition at her age.
4. She's Got CDs Already
She recorded her first when she was barely a teenager. She was only 13 when she recorded her first album, and that was something she was so proud of. That happened to be the same year she made it onto AGT into the top 70. That's big, and that's a big year for a girl who didn't even have the life experience of a full middle school career at the time. If you ask us, it helps us see just how serious she is about her future and her career as a musician.
5. She's A Performer
Her entire life has been centered around music. Since she was a little girl, she's been sharing her talent with anyone who will listen. Thankfully for her, that's a lot of people. She's so talented that she's been asked to perform at events such as the All State Sugar Bowl Gala, Frenchy Quarter Fest, and so much more. She's been around the block a time or two, and it's clearly helped to refine her talents and make her shine.
6. She's Got Musical Influences
Even if you are not a musician, you have a few musical influences. You might like the style of someone more than others, you might like what someone sounds like, you might like their writing. Whatever it is, you can see that there are some things that are just good. She's got her own musical influences, and they have helped her to refine her talents. Some of her favorites include the late Amy Winehouse, who was a soulful and beautiful talent. She also loves Aretha Franklin and Stevie Wonder, and we get it. They're icons in the singing industry.
7. She Has a Signature Pose
She knows her angles, but she might not realize she has a signature pose. But, if you check out her Instagram feed, she has her head tilted to the same side in the same angle in every photo. She also likes to sit with her legs crossed and a half smile on her lovely face. It works for her.
8. She's Got a Great Personality
On her Facebook fan page, she seems to have a lot of fans. They like to point out that her talent is out of this world, but that her personality has not suffered because of her fame and her talents. Her fans call her adorable and sweet, kind, and friendly. We hope that she manages to keep that in her life when her fame is through the room and she's the most famous singer of the year.
9. She Got Her Start at School
She knew she was good, but she didn't quite realize how good she was until she decided to perform at a school talent show. It's where she allegedly got her start in the world of singing, and we imagine that the fans and parents and students in the audience must have recognized her talents right away. She got her start here, and we think she loved it enough to want to have some more of it.
10. She's Still Performing with Her Band
She's got a band, and they like to perform. She's still doing that, too, and she's working hard to keep her concert dates in check. She's got some on the books for this month in the next few days, and she's going to be there with her band to make it big. Fans will be so excited to see their local hometown musician more now than ever since she's the girl who is going to go down in history.