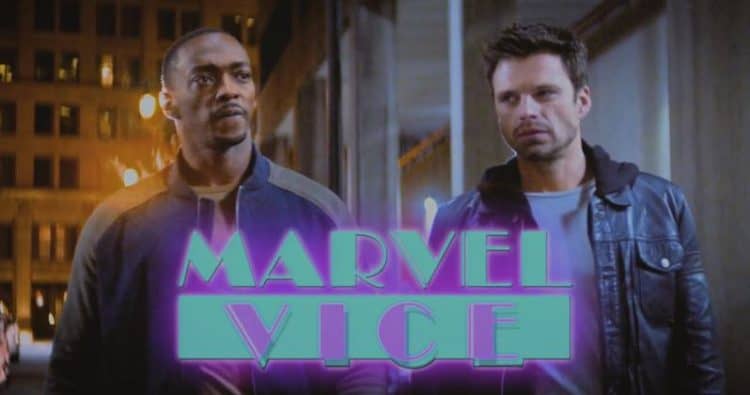 This is kind of a nice effect that's been put into play by the fans since it's also a reversal of roles given that Sam is in charge and Bucky is kind of, well, just there to do his part. It's not hard to see how this lines up kind of with Miami Vice in a few ways since Sam and Bucky do kind of do their own thing and don't always follow protocol. As a team, the two of them were kind of hopeless to start with simply because they didn't vibe as much as they needed to. It almost feels as though many people were expecting this pairing to work automatically due to the fact that they were both friends of Steve Rogers and shared a common interest when it came to the shield and to preserving the peace and all that kind of stuff. But with the screwed-up wiring in Bucky's head, courtesy of his conditioning, and the fact that The Falcon and The Winter Soldier touched upon the plight of POCs in the nation things didn't really work out that way from the start. In fact, Sam and Bucky couldn't really stand each other for a while and had to work into the whole idea of being partners before they could be friends. It's not exactly as though Bucky could turn a switch in his head and be the same type of guy he was before Hydra got hold of him, and Sam had his own issues that he was dealing with as well concerning Captain America's shield and the fact that his family issues weren't going to go away anytime soon. As far as pairings go however these two were definitely bound to be one of the most interesting pairs to appear in Phase 4 of the MCU since they'd already been interacting in the previous phase. But there's no doubt that Sam took the lead this time around since Bucky, despite going off on his own a few times, was there to follow Sam's lead and to pester Sam about taking up the shield. Neither one of them really cared for John Walker, who started off in a decent manner as Captain America but wasn't really cut out for the job. It's going to be interesting to see what happens when he comes back as US Agent, if he does.
Now that Sam is the new Captain America and Bucky has laid aside the Winter Soldier bit though, one has to wonder what they're going to be doing and who they're going to be defending against. Obviously, in the MCU there are plenty of enemies to worry about, especially since Sharon Carter has been reinstated and appears to be a genuine threat, but with Hydra and other enemies still, on the loose, it does feel that they'll be asked to tackle enemies that are bent on different goals and will be leading up to another Thanos-type threat at some point that will see them kind of relegated to the middle of the pack again since anything that's too powerful is going to leave a lot of earth-based heroes either on the sidelines or as support since like it or not, any cosmic threats that might appear are going to be generally too tough for someone such as Captain America or Bucky to take on without a serious amount of help. But given that the MCU is expanding and more heroes are making their way onto the roster it does feel fair to say that Sam and Bucky might still be of use, just in a different capacity.
So far it does feel as though the individuals that helped to make the last few phases of the MCU what it was are being kept around, but only as a base in order to set up the arrival of new faces and names that will continue to push forward what they helped to start. The list of movies and shows that are coming from Disney is impressive, but it also indicates a changing of the guard in a big way as things are shifting into another gear and moving forward in a way that will leave some names behind. It's bound to happen since like it or not some actors might age out of their roles, some might want to move on to other projects, and some characters might no longer fit the narrative quite as well. Whatever happens, the MCU will keep rolling along, and it's fair to say that characters like Sam and Bucky will be around as long as they serve a purpose. Things have to change eventually or they tend to stagnate, and unlike the comics, keeping people around for decades at a time isn't that possible. But it's fun to enjoy them while they're here.