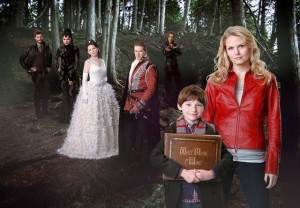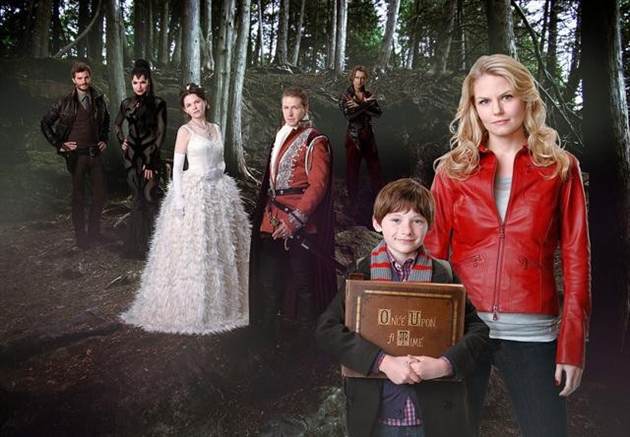 Over the last few months, I have had the opportunity to watch over 30 new 2011 TV shows in advance, and have narrowed down the best new fall series'in two categories: addictive and intriguing (must-see weekly viewing worthy of potential overanalysis), and guilty pleasurable (watch, enjoy, move on with your week).
*Caveat: I did not have access to NBC screeners; thus, none of their new shows were eligible to make this list.
ADDICTIVE & INTRIGUING
1. Once Upon a Time (ABC) @OnceABC
Premiere: 10/23/11
Starring: Jennifer Morrison, Ginnifer Goodwin, Robert Carlyle, Josh Dallas, Lana Parrilla, Alan Dale and Giancarlo Esposito.
Created/produced/written by former LOST producers/writers Adam Horowitz and Eddy Kitsis, with writer/producer and sci-fi icon Jane Espenson (Buffy, BSG, Warehouse 13).
Once Upon a Time is a very clever, whimsical and dark spin on familiar tales from childhood. It is easily the most unique series to debut this fall, with a tremendous ensemble cast and the ideal creative team behind the scenes for a show of this nature and scope.
Make no mistake – Once Upon a Time is not a show about fairy tales; it is a refreshingly original series that openly embraces a journey through two worlds — the Then and the Now (not official terms for each time; simply my way of differentiating). While watching each episode of Once Upon a Time, keep a keen eye wide open for recognizable, iconic nods to both LOST and the tales you all loved as children. Homage is alive and well in the town of Storybrooke, an entertaining addition to the fantastic world that Horowitz and Kitsis have created.
After watching this pilot three times, including live at their SDCC panel, there is no doubt that Once Upon a Time is my pick for the best new show of 2011.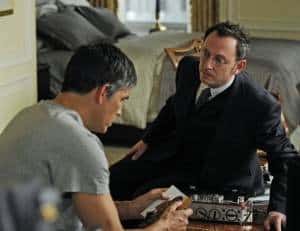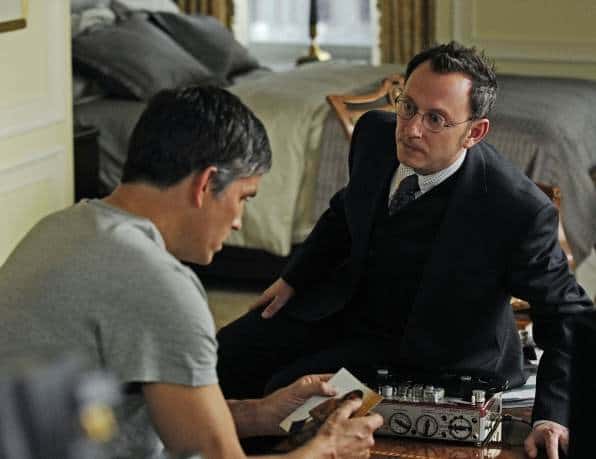 2. Person of Interest (CBS) @PersonInterest
Premiere: 9/22/11
Starring: Jim Caviezel, Michael Emerson, Taraji P. Henson and Kevin Chapman.
Created, produced and written by Jonathan Nolan (Memento, The Dark Knight, The Dark Knight Rises).
Person of Interest hits the sweet spot for fans of films by the brothers Nolan, conspiracy theory buffs and future technology enthusiasts alike. The show is a fascinating combination of Minority Report-style crime prevention and modern graphic novel vigilante justice.
It will certainly be a welcome sight to see Michael Emerson again every week in our living rooms, and although his new character is nothing like Benjamin Linus, Emerson is once again the master of mystery — in an entirely different capacity and setting.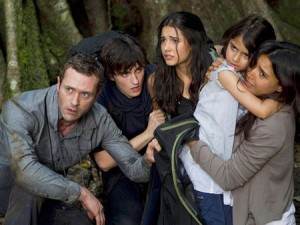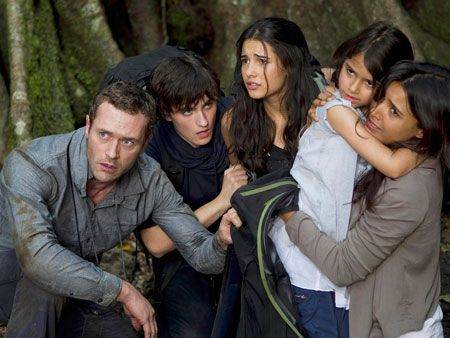 3. Terra Nova (FOX) @TerraNovaonFOX
Premiere: 9/26/11
Starring: Jason O'Mara, Stephen Lang, Christine Adams, Shelley Conn, Mido Hamada, Landon Liboiron, Allison Miller, Alana Mansour and Naomi Scott.
Executive produced by Brannon Braga (24), Rene Echevarria (Castle), Alex Graves (The West Wing) and the ubiquitous Steven Spielberg (among many others).
Terra Nova is worthy of the buzz you've been hearing for months. It is epic, lush, cinematic and even breathtaking at times. Yes, the show does feature dinosaurs, but it would be much more apt to describe Terra Nova as a dramatic adventure series about a family from the future who travels back in time under unusual circumstances and with unexpected results. Most of the entire two-hour pilot is quite riveting, and at times it feels like a full-length feature film. The visual effects are rather spectacular for the small screen, but many would expect nothing less from a show produced by Spielberg.
GUILTY PLEASURABLE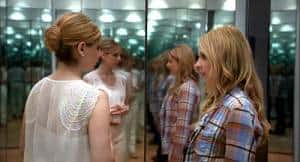 4. Ringer (CW) @CW_network
Premiere: 9/13/11
Starring: Sarah Michelle Gellar, Nestor Carbonell, Mike Colter, Ioan Gruffudd, Kristopher Polaha and Tara Summers.
Created and produced by former Supernatural writers Eric C. Charmelo and Nicole Snyder, as well as Pam Veasey (CSI: NY).
SMG is very successful in this delicious and challenging new role – playing twin sisters. There is little about this show or her character that will remind you of Buffy. And that is likely what SMG had in mind when she signed on. Ringer will appeal to both new viewers and her dedicated CW fan base.
5. Revenge (ABC) @Revenge
Premiere: 9/21/11
Starring: Emily VanCamp, Christa B. Allen, Josh Bowman, Henry Czerny, Ashley Madekwe, Gabriel Mann, Connor Paolo, Madeleine Stowe and Nick Wechsler.
The eclectic creative team includes producers Mike Kelley (Jericho), Marty Bowen and Wyck Godfrey (the Twilight films), and Phillip Noyce (Salt, Patriot Games).
The easiest way to describe this show is The Real Desperate Housewives of The Hamptons. Emily VanCamp's character definitely has a dark demon along for the ride, although not quite on the level of Dexter.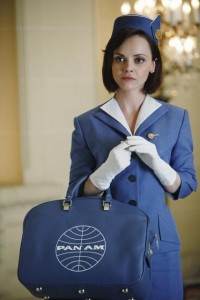 6. Pan Am (ABC) @PanAmABC
Premiere: 9/25/11
Starring: Christina Ricci, Kelli Garner, Michael Mosley, Margot Robbie, Karine Vanasse and Mike Vogel.
Created, produced and written by Jack Orman (Men of a Certain Age, ER), and directed by former West Wing guru Thomas Schlamme.
Very stylish; a bit of Mad Men up in the skies. There is a surprising infusion of spy shenanigans.
7. The Secret Circle (CW) @CW_network
Premiere: 9/15/11
Starring: Britt Robertson, Thomas Dekker, Gale Harold, Shelley Hennig, Natasha Henstridge, Louis Hunter, Jessica Parker Kennedy and Phoebe Tonkin.
Executive produced and written by Andrew Miller and Elizabeth Craft (The Vampire Diaries, Dollhouse).
If The Vampire Diaries and True Blood had a child, it would be this show. Except that this series features witches rather than vampires.
—
I also enjoyed A Gifted Man (CBS), which premieres on 9/23, but the show does not truly fit into either category above.
Unfortunately, I have not had the chance to preview the following shows yet: American Horror Story (FX), Enlightened (HBO) and Homeland (SHO).
* Which new shows are YOU looking forward to the most? Leave your thoughts in the comments below or send them to me via Twitter (@jopinionated) by 9/20/11 for a chance to win either an Evil Queen or Snow White Once Upon a Time poster from SDCC!