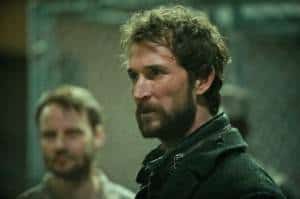 It can't be said Falling Skies wasn't going for the gold with their second season finale. A lot of surprises were launched in our direction, some of which I found quite unforgivable.
You have to hand it to Tom Mason. He's not only incredibly loyal, but incredibly fertile. He didn't stand by and let his mentor Arthur Manchester wither in the brig any more than he would allow the skitters to fight their battle against the Overlord on their own. Of course, having his son speaking on behalf of Red Eye does give him a distinct advantage in wanting to help them, but the entire 2nd Mass was itching for the fight.
As for Mason's fertility, barring unforeseen circumstances, and they surely could arise, Anne will be giving birth to another Mason is about 7-8 months. What surprised me the most about that was how she didn't hold her long locks back while vomiting into the sink. Yes, I'm strange that way. It was a shame Tom learned of the impending bundle of joy how he did, but it was sort of fitting, given everything else they've been through.
The skitters heading underground into Charleston made for a stunning scene. I especially enjoyed seeing them all fight together against the overlord. Bressler could complain all he wanted about not believing their load of crap story, but seeing a skitter launch himself onto the Overlord was believing. As for the disappointing part? My beloved Red Eye is gone. I don't know why I was so taken with him, but I truly wanted a little stuffed version on the shelves for Christmas. There was something so warm and genuine about him, knowing he had suffered the same terrible fate as the harnessed children. It will be interesting to see who or what will take his place.
Which leads me to the tiny glowing parachutes. If you remember my favorite one season alien invasion show, you might remember a similar scene. The show? Simply titled "Invasion." The very last show of the series had a similar shot, but they fell into the water where those aliens prospered. We never learned anything more about them. In "A More Perfect Union" we were treated what appeared to be a winged creature, more human like than the skitters and Overlord combined.
At first blush, my thought was they might be allies, waiting to descend upon earth when they knew they would be accepted and understood, and it took a group such as the 2nd Mass to working with the skitters to give them that reassurance. But, I am often wrong.
The promo photos of Hal gave me no indication he would be infiltrated by the creepy crawly alien bugs. Just how many are in him that one crawled out of his eyeball and he didn't grab it and squash it before it crawled back into his ear? Yikes!
Whatever the case may be, Falling Skies really took the series to new heights during its second season. They didn't pull any punches and kept us guessing every step of the way. That's good entertainment value and perpetuates the stance that TNT takes that they know drama. 2013 certainly seems like a long time to wait to meet the man from the space rocket, doesn't it?