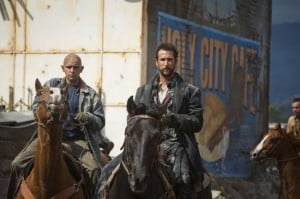 If you've been waiting as anxiously for the return of Falling Skies as we have you probably already know that season 3 kicks off on June 9th at 9PM on TNT with a two part Season Premiere.  Today, TNT released the first official episode Synopses and Promo pics for the Premiere, and beyond — and it sounds absolutely epic.
From the photos it appears we will be treated to some of Falling Skies signature firefights, but the real meat is in the descriptions.  Most notably,  the fact that season 3 opens with a seven month time jump into the future that finds several characters shifted around on the chessboard,  Tom is an elected official, Anne is seriously pregnant, and the introduction of a character called The Rat King whose nuclear background is bound to lead to some duplicity among the ranks.
Below are the first two episode's descriptions and further down the article you can launch our slideshow featuring 10 new pics from the new season.  June 9th, HURRY UP!
Season Premiere Part 1: "On Thin Ice" – Sunday, June 9, at 9 p.m. (ET/PT) – TV-14-LSV

Season three of Falling Skies opens seven months after the 2nd Mass arrived in Charleston. In the interim, Tom has been elected to political office, but he has his hands full as the resistance continues to battle the alien invaders. Tom's decision to have the rebel skitters fight alongside humans creates tension and raises suspicions that someone may be feeding secrets to the enemy. Meanwhile, Hal struggles with nightmares that seem so real, he has difficulty knowing if he's awake or dreaming. And Tom and Anne prepare to welcome their baby. Terry O'Quinn and Gloria Reuben guest star.

Directed by Greg Beeman
Written by Remi Aubuchon
Created by Robert Rodat

Season Premiere Part 2: "Collateral Damage" – Sunday, June 9, at 10 p.m. (ET/PT) – TV-14-LV

With hostilities escalating between the resistance and the alien invaders, Tom calls on a nuclear specialist (guest star Robert Sean Leonard) known as "The Rat King" to come up with a plan that will strip the aliens of their power. As suspicion continues to mount about a mole within the resistance, Tom and his leaders make a drastic decision that jeopardizes trust among the group. Anne, meanwhile, has a feeling that all is not right with her newborn. Gloria Reuben also guest stars.

Directed by James Marshall
Written by Bradley Thompson & David Weddle
Created by Robert Rodat