After nearly having their hopes dashed on last week's episode of Falling Skies, the 2nd Mass discovered there were other survivors in Charleston, SC. Not only the remnants of society but the establishment of the new Capital of the United States of America.
This Sunday, on "The Price of Greatness" we will meet Arthur Manchester, played by the omnipresent Terry O'Quinn, who was once Tom Mason's mentor and professor. What else might we discover as we trek into Charleston with the Tom, Weaver and their merry band of refugees? Let's play one of my favorite games while looking at the promo photos – speculation!
Is it just me, or are they standing still? That escalator has electricity! Could that also explain the looks on their faces as if they are the first astronauts to land on the moon? The capitol must seem exciting at first glance.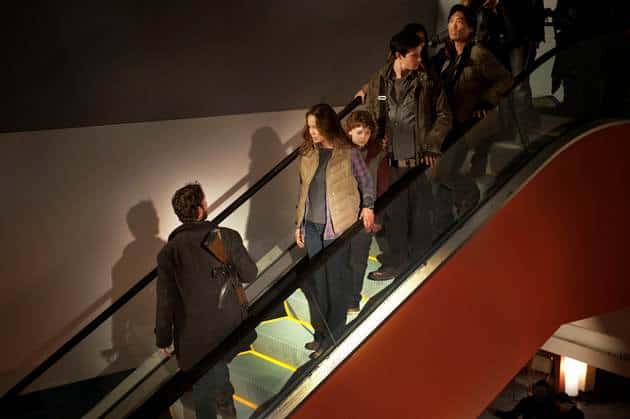 Everyone looks happy to be there. That always screams "red flag" to me. Well, the ominous previous shouting that not everything is as it seems played a part, as well. I'm getting a UK Survivors vibe off of what's ahead, and that's a good thing. A very good thing.